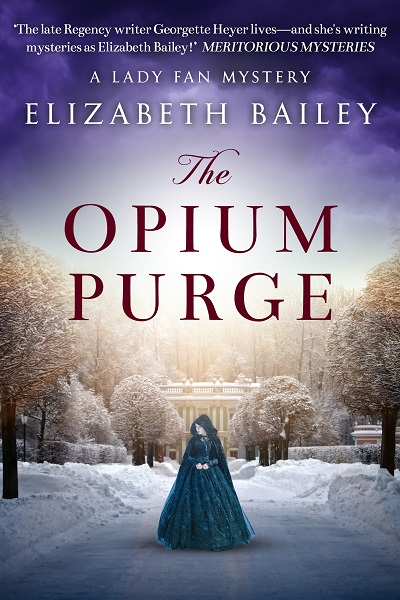 Lady Fan and her crime-fighting family are back! For fans of Georgette Heyer, Mary Balogh, Barbara Erskine and Jane Austen.
Order Now!
About the Book
A dark shadow has been brought from the West Indies to an English estate…
Lord Francis and Lady Ottilia Fanshawe are preparing for the birth of their first child.
But Lady Fan won't let a little thing like pregnancy get in the way of solving a local mystery.
Their neighbour – Sir Joslin Cadel – who recently returned from a sugar plantation in Barbados, has collapsed and died on his doorstep.
And his young ward, Tamasine Roy, claims to have murdered him.
With Tamasine clearly suffering from some kind of mental disorder, and the rest of Cadel's household acting suspiciously, it is clear all is not as it seems.
Why did Sir Joslin suddenly return to England? What happened to Tamasine's parents?
Could this seemingly angelic young woman really be a murderess…?
The Opium Purge is the third book in the Lady Fan Mystery series by Elizabeth Bailey.
Endorsements
'Ottilia is a strong, intelligent character with a real enthusiasm for detective work'
– She Reads Novels
Other Books in "Lady Fan"