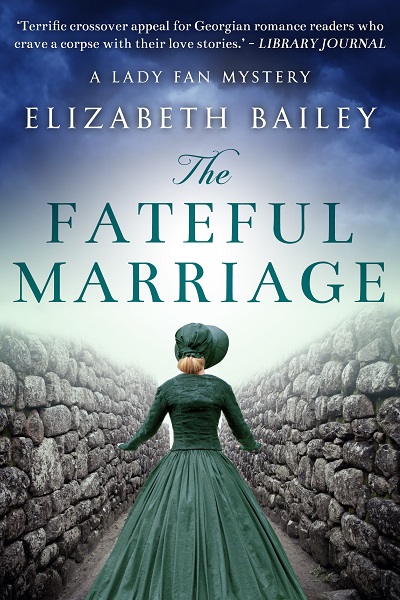 A brand new mystery featuring Lady Fan! For fans of Georgette Heyer, Mary Balogh, Barbara Erskine and Jane Austen.

Order Now!
About the Book
Wherever Lady Fan goes, murder follows…
Lady Ottilia and Lord Francis Fanshawe are holidaying in Tunbridge Wells when they stumble across the scene of a horrific accident.
While visiting the High Rocks, a local tourist spot, a young woman falls to her death from the top of the climb.
It soon becomes clear that the woman is linked to the infamous Dowager Viscountess Lady Wem – an indomitable matriarch visiting Tunbridge with her extended family.
The young woman was at the centre of a scandal – Lady Wem's grandson, Daniel, eloped with her three years prior.
As Lady Fan is introduced to the family her suspicions are aroused.
Was the fall a devastating mishap? Or could the woman have been pushed?
Lady Fan must unravel dark family secrets in her quest for the truth…
The Fateful Marriage is the sixth book in the Lady Fan Mystery series by Elizabeth Bailey.
Other Books in "Lady Fan"