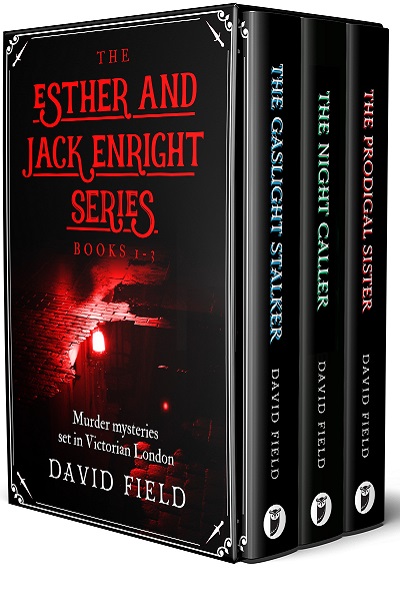 Looking for your new favourite Victorian mystery series? Perfect for fans of Sherlock Holmes, Rory Clements and Antonia Hodgson… 
Order Now!
About the Book
Get the first three books in the Esther & Jack Enright mystery series by David Field now!
The Gaslight Stalker
Whitechapel is full of the noise of August Bank Holiday celebrations. Everyone is in high spirits until a woman is discovered brutally murdered. Her friend, Esther, is determined to find the killer. A young police officer, Jack Enright, takes the lead on the case, and he and Esther soon embark on a professional – and personal – relationship.
When another murder is committed and whispers of a slasher calling himself Jack the Ripper start flowing through the London streets, the search becomes even more desperate. The police are on the wrong track and the young couple take matters into their own hands, and soon find themselves navigating through London's dark underbelly…
The Night Caller
London is still reeling from the brutal Ripper killings and now women are once more being sexually harassed. Someone is breaking into their homes, stealing their undergarments and leaving threatening messages behind.
With no valuables stolen and no murders committed the police fail to take the women seriously. But when Esther finds herself personally acquainted with one of the victims, she starts to believe something more sinister could be going on. Enlisting the help of Jack and his uncle Percy, Esther is determined to solve the mystery.
The Prodigal Sister
When a young woman is found dead on the railway tracks, the police force initially assume she committed suicide. But when Detective Inspector Jack Enright and his uncle Percy find out her real identity, it becomes clear that things are not as they first appeared.
Suspecting murder they dig deeper into her family history, and discover something truly shocking. Needing to get infiltrate the family home to expose the killer, Jack persuades Esther to go undercover. How far will Jack and Esther go to get a confession? Will anyone else believe them? Or will they find themselves in grave danger…?
Other Books in "David Field"