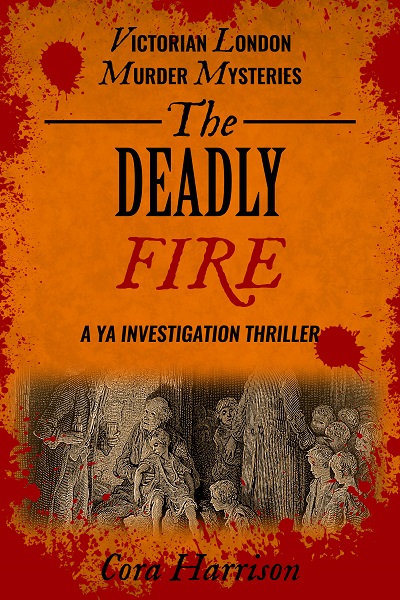 Alfie and his gang are back! Perfect for fans of Sherlock Holmes, Charlie N. Holmberg, Markus Zusak and Leigh Bardugo.
About the Book
Alfie must unravel another sinister plot in St Giles…
London, 1858
Alfie and the four young boys in his care have decided to better themselves and learn to read at St Giles Ragged School.
But disaster strikes when the school burns to the ground and idealistic teacher Mr Elmore perishes in the flames.
Alfie and his gang are certain that this was no accident and are determined to find out who is to blame.
But the police are dismissive of their claims.
Once again, the young urchins become amateur sleuths, shadowing suspects through the mean streets of Victorian London.
Was Mr Elmore the target? Are Alfie and his gang now in danger?Can they discover what really caused The Deadly Fire…?
The Deadly Fire is the second young adult crime thriller in an exciting historical series, the Victorian London Murder Mysteries by Cora Harrison, following a gang of street urchins fighting crime in London's slums.
Other Books in "Victorian Murder Mysteries"