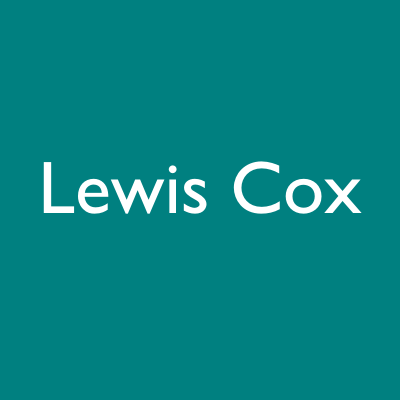 Euphrasia Emmeline Cox (Lewis Cox) was born in 1889 in South Wales, the second of six children – four girls and two boys – to Jonathan and Laurette Lewis. Both parents died when she was quite young and the family was rather left to look after themselves. The youngest sibling, Leonard, was killed in 1917 aged 19, in the Somme and his name can be found on the Menin Gate in Ypres.
She married William Lewis Cox from Dunmanway, co. Cork in 1913 at St George's, Hanover Square and their only child, Euphrasia Joan (Tam) – my mother – was born on 4th August, 1914. For most of their married life they lived at various addresses in central London, except for a short period when they rented Chawton House in Hampshire, the home of the Knight family, where Jane Austen wrote her novels.
When William died in 1946, Euphrasia lived with her daughter, Tam (who had married Cecil Playford in 1939) and their family until she died in 1983.
She wrote over 250 novels all in longhand; she started her career in the late 1920s and continued writing well into her 80s. She wrote under the names of Lewis Cox, Bridget Parsons and Mary Blair, and her books were published, primarily, by Hutchinson, Mills & Boon and later, Robert Hale. They were available in many countries and translated into several languages, including Japanese and Dutch.
In her writing, as in life, she was very disciplined and forthright with a strong will and high standards; not outgoing with few friends, she did not seek publicity, but enjoyed her success and, whilst not a traveller, it is perhaps true that she lived through her imagination. She loved antiques and enjoyed collecting furniture and pictures.
It is fair to say that she was not an easy person to live with but one cannot help but admire all that she achieved, particularly at a time when women were expected to be in the background- hence her using the name 'Lewis Cox' – and during the war; judging by the cuttings she was very highly thought of and had good reviews and billing.