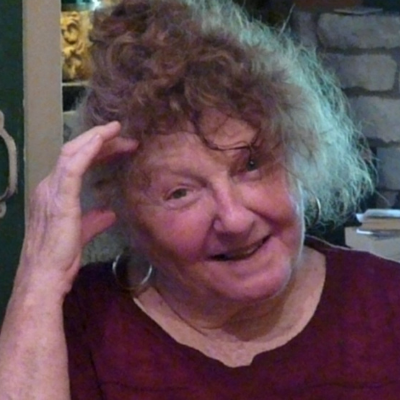 Carolyn Banks was born in Pittsburgh, Pa., She went to a Catholic grade school and, like all little Catholic girls, wanted to be a nun. She was 11 when she first saw her name in print (attached to a Letter to the Editor that she'd written) in the Pittsburgh Press. Immediately, she abandoned all spiritual leanings. Now she wanted to be a writer.
As a writer, she was always writing little vignettes and dropping them here and there around the house. Mostly these focused on some disaster she was facing. She was losing her hearing. She was losing her eyesight. She had 30 days to live. She imagined herself into all these situations and wrote about them with adolescent angst and zeal. She remembers hearing her mother say to her father, "Look, Phil. Now she has leprosy."
She took Creative Writing in college and her teacher told her, over and over again, she ought to write a novel. A couple of years after graduation she was the editor of Horse Play, a monthly equestrian magazine. One night she drank too much wine and called the teacher, asking, "Do you still think I could write a novel?" He said "No," adding, "If you had it in you, you'd have done it by now."
Carolyn hung up on the man and began work on her first novel, Mr. Right.
His "no" activated what Carolyn describes as her "Oh, yeah?" impulse: "a desire to show those who underestimate me that they're wrong. " Although Mr. Right has a lot of sex in it, I think of it as an innocent book. I wrote it without any knowledge of the publishing industry. The one editor (out of about 20) who liked it kept screaming at me. "What is it? Is it a mystery? Is it a women's book? What part of a bookstore would it be shelved in? And," she accused, "it's funny! Funny! I like it, but…"
Banks says Mr. Right "contains all of what I like to write about. I like to be funny. I like to be (safely) scared. I like intelligent banter, like having fun with language. I think that aspect, the banter, is called 'stichomythia,' and I like knowing oddball scholarly stuff like that." Mr. Right was written in the age of Aquarius. Unfortunately, it was published in the same month Fear of Flying hit bookstores."
Her agent and her editor kept saying, "Enough with the funny already." Three serious suspense novels followed: The Darkroom, The Girls on the Row, and Patchwork. In between, Banks began to review true crime books for The Washington Post and Crimebeat magazine. "I was up to my eyeballs in gore," Banks said, "I was on the beach, relaxing, reading a particularly graphic book about John Wayne Gacy. That did it for me. I didn't want to be wallowing in books about real murders and really ugly stuff."
She turned to what she calls, "murder tra-la," writing a lighthearted mystery series featuring Robin Vaughan, an amateur sleuth who blunders into trouble. Robin's passion is horses and her sport of choice is dressage. These book titles are Death by Dressage, Groomed for Death, Death on the Diagonal, A Horse to Die For, and Murder Well Bred. Sapere Books is publishing them as Robin Vaughn's Equestrian Mysteries.