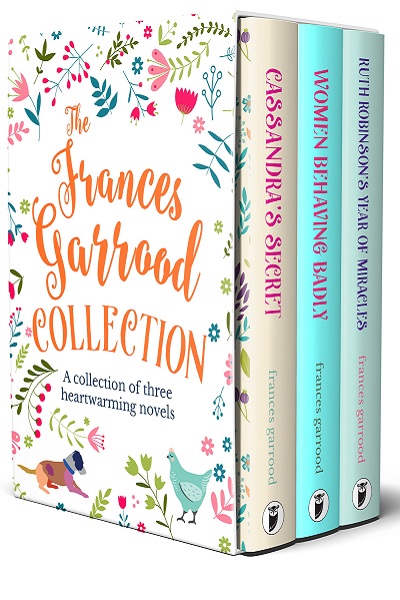 Looking for a brilliant author of feel-good uplifting fiction? Try this collection of three heart-warming novels by Frances Garrood.
Order Now!
About the Book
The Frances Garrood Boxset is a collection of three funny and poignant women's fiction novels, full of quirky characters and family dramas.
Cassandra's Secret
Cassandra Fitzpatrick's family isn't quite like everybody else's: her house is always full to bursting with the various misfits her mother houses as lodgers. The creative and chaotic household is all she has ever known and loved, until something awful happens that changes everything.
Cass loves her mother deeply, but, as she gets older, she becomes more and more aware of her flaws. Will Cass have to distance herself from her family to find happiness? Or is she destined to follow in her mother's footsteps? As Cass reflects on her memories, she must lay the ghosts of the past to rest and make peace with the secrets that have haunted her adult life…
Women Behaving Badly
Alice is a harried single mother dealing with a teenage son, an irresponsible ex, and a noncommittal lover. Mavis is juggling caring for her elderly, confused mother alongside her long-standing affair with a hypochondriac father-of-two. And Gabs is a high-class escort who's fallen in love with someone completely unattainable.
All three women are behaving in ways very much frowned upon by the Catholic Church. But their priest, Father Cuthbert is determined to reform them. As the three women strike up an unlikely friendship, each re-evaluates what is most important them. And it seems the not-so-holy trinity of Alice, Mavis, and Gabs can't be 'cured' that easily…
Ruth Robinson's Year of Miracles
Six months ago, Ruth Robinson had a regular job, a monthly salary and a comfortable flat to go home to. After quitting her job ready to go travelling, a momentary lapse of judgement put a major spanner in the works… Now Ruth has a baby on the way, and no place to call home…
With the father of her child AWOL and her parents less than impressed, Ruth decides to move in with her eccentric uncles. And when the Virgin Mary appears in their hen house, it is clear Ruth's unplanned pregnancy isn't the only 'miracle' she'll be encountering this year…