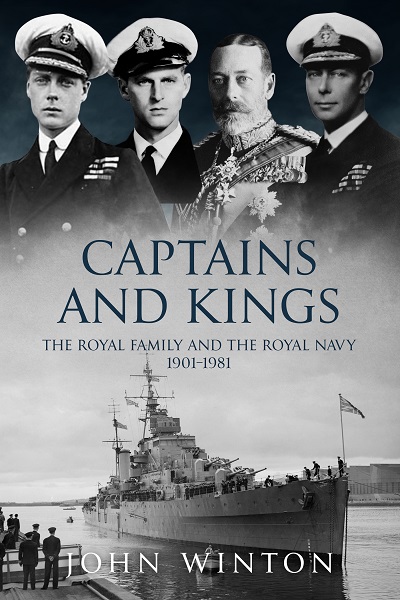 A highly readable history of the relationship between the Royal Family and the Royal Navy during the twentieth century.
Order Now!
About the Book
'There is no more fitting preparation for a King than to have been trained in the Navy' – Lord Louis Mountbatten to King George VI.
The Royal Family have always looked on the Navy as excellent training for their responsibilities in life, and a truly staggering number of them have served. Two of Queen Victoria's grandsons, Prince George and Prince Albert, entered the Navy in 1877 as cadets on the training ship HMS Britannia, enduring hard physical effort, cold salt-water baths, and strict discipline – there were no concessions to royal rank – while the future King George VI manned a gun turret aboard HMS Collingwood at the Battle of Jutland, the largest naval battle of the First World War.
In Captains and Kings John Winton chronicles the rich and varied careers of four generations of Royal naval officers between 1901 and 1981, from King George V, who regarded the Navy as the very best kind of early training in character and discipline for any boy and especially for a prince, through to Charles, the future King Charles III, who trained as a naval helicopter pilot and later took command of the minesweeper HMS Bronington.
Along the way are thrilling accounts of naval engagements, including Prince Philip's dramatic role in charge of the searchlight aboard the battleship HMS Valiant during night action off Cape Matapan in 1941, for which he was mentioned in despatches. As First Lieutenant of the destroyer HMS Whelp, the Duke of Edinburgh was present in Tokyo Bay when Japan formally surrendered to the Allies on 2 September 1945.