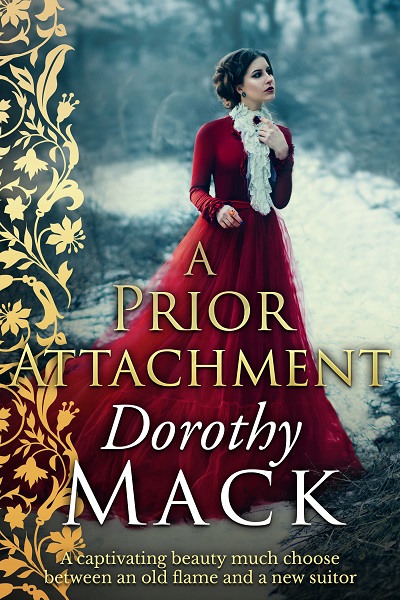 A delightful Regency romance! Perfect for fans of Georgette Heyer, Mary Balogh, Jane Aiken Hodge and Jane Austen.
Order Now!
About the Book
Who is the right man for Gemma?
Regency England
For two years, Lady Gemma Monteith has awaited the return of her old friend Captain George Godwin, who has been away fighting in the Peninsular war. Having been in love with him since childhood, she is determined to become his wife.
But Gemma's father wishes her to marry kindly barrister John Delevan in order to rebuild the family's dwindling fortune.
When John is invited to stay at Monteith Hall for the summer, both suitors are thrown into Gemma's path at once. To her dismay, George seems uninterested in rekindling their romance.
And as she and John grow closer, Gemma begins to question her heart…
A Prior Attachment by Dorothy Mack is a classic Regency romance with a lively, vibrant heroine.