On Saturday, Amy and I travelled to York to celebrate the winner of the RNA's Joan Hessayon Award.
The Joan Hessayon Award is for a debut author who has had their book accepted for publication after passing through the Romantic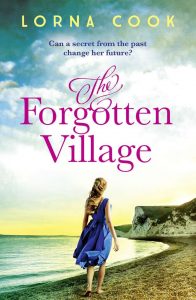 Novelists' Association New Writers' Scheme.
This year's shortlist of fifteen included sweeping wartime romances, uplifting stories of self-discovery, and intriguing mysteries.
Our editorial director, Amy Durant, judged the shortlist alongside RNA Chair Alison May, Vice Chair Imogen Howson, and Simon & Schuster's Sara-Jade Virtue.
This year's winner is The Forgotten Village by Lorna Cook: a story of hope, new beginnings and unlooked-for love. Cook's debut novel intertwines two love stories: one set in 2018, and one set in 1943.
In the present, twenty-eight-year-old Melissa is stuck on a lacklustre holiday in Dorset, with a boyfriend who seems more interested in surfing than working on their stale relationship. On a whim, she visits the nearby village of Tyneham, which was evacuated and closed during WW2 but is now open to the public. There she runs into Guy, a charming celebrity historian. Intrigued by a seventy-five-year-old photograph of Veronica Standish — the long-suffering wife of Tyneham's tyrannical nobleman — Melissa enlists Guy's help to find out more about her. They soon find themselves untangling a decades-old mystery to discover the fate of Veronica, her husband, and her secret lover.
As well as skilfully navigating and developing two romantic plots, Cook should be praised for her deft interweaving of historical detail, her strong sense of voice and character, and her sensitive handling of one of the book's more difficult themes: domestic abuse.
We would like to send a huge congratulations to Lorna — and to all of the authors who participated, and managed to overcome the huge hurdle of getting a publishing deal!
As well as indulging in a wonderful Afternoon Tea before the ceremony, we also had the chance to catch up with two of our authors: Ros Rendle and Natalie Kleinman, both of whom have fabulous romantic fiction forthcoming with Sapere Books.
Ros' Strong Sisters series will explore family relationships, rivalries, and love. Natalie's Regency romances will feature spirited heroines, determined to succeed against the odds.
Image credits:
The Forgotten Village by Lorna Cook, published by Avon in 2019.
Featured image: Photo by Brigitte Tohm on Unsplash.