The heroine of the Mina Scarletti books is not based on a specific individual; however when I created my diminutive protagonist two people were in my thoughts, one of whom I knew personally.
Eva was the aunt of a friend of mine. She had a very severe distortion of the spine, but the thing that I remember most about her was her sweet smile. I never got to know her well and she died when I was a child.
Annie Jane Fanny Maclean was delicate and very small, due to the curvature of her spine and she walked with a limp. In 1879 aged 33, she inherited some family property. She also attracted the attention of Lewis James Paine, a 49 year old insurance salesman in need of money.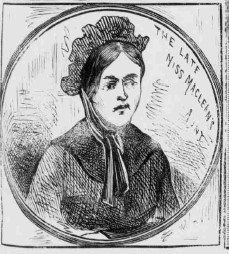 Unknown to Miss Maclean, Paine was a married man, although he denied it when challenged by her suspicious family. By July that year they were living together as husband and wife. Annie had been a moderate drinker, but Paine plied her with alcohol, sometimes forcing her to drink it against her will, and as she fell more and more under his control, he withheld food.
In September, in a very weakened state, she was induced to sign a deed making over her property to Paine. In less than a month she was dead.
Paine was tried for the wilful murder of Annie Maclean at the Central Criminal Court in February 1880. The question for the jurors was had Paine deliberately set out to kill, or had he caused death through recklessness and negligence? He was found not guilty of murder but guilty of manslaughter.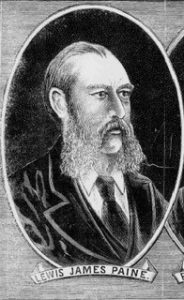 Paine made a long statement to the court, claiming innocence, but the judge, who clearly despised him, stated bluntly that he didn't believe a word of it.  He stated that Paine was guilty of manslaughter 'in about as cruel and barbarous circumstances as I ever remember having heard of.  . . . Had you been guilty of murder, you would most unquestionably have been hanged, as you richly deserve to be.' (Times 25 Feb 1880 page 11) Paine was sentenced to imprisonment for life. He died in 1897.
In commenting on the case, The Times pointed out that the victim's appearance was not an insignificant fact, and this led me to reflect on the vulnerability of women in the Victorian marriage market, especially those with a disability, who if they had property could be manipulated by cruel and unscrupulous men.
Marriage and motherhood were considered to be the primary and most desirable roles for Victorian women, and Miss Maclean must have seen Paine, perhaps her only wooer, as her chance of happiness.
In Mina Scarletti, who has been told by her doctors that she must never think to marry, I have created a heroine who is able by her unique insight and force of will to make a challenging and fulfilling life for herself.