Congratulations to Adele Jordan, whose gripping espionage adventure, The Lost Highlander, is out now!
The Lost Highlander is the fourth book in the Kit Scarlett Tudor Mysteries Series.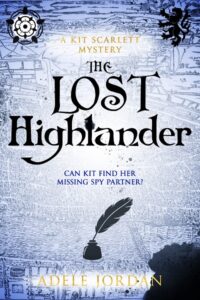 1586, London
Covert espionage agent, Kit Scarlett, is once again tasked with defending Queen Elizabeth against an assassination attempt.
With the attacks on the queen's life mounting, Kit and spymaster Sir Francis Walsingham know they need to find a firm link between these deadly plots and Mary Queen of Scots.
But Kit is also keen to investigate a more personal matter. Her espionage partner, Iohmar Blackwood, did not return from his last mission set by Walsingham and has not been seen for a year.
When Kit is given a task by Queen Elizabeth to deliver a letter to Mary Queen of Scots, a letter not to be read by officials or any political figure, she takes advantage of the opportunity search for Iomhar and find out what happened to him.
But she soon finds herself trailed by Mary Stuart's supporters and her journey becomes fraught with danger.
Can Kit complete her mission? Will she find out what happened to Iohmar?
Or will she become a victim in the fight to overthrow the queen of England…?
Congratulations to Neil Denby, whose action-packed military adventure, Legionary, is out now! Legionary is the first book in the Quintus Roman Thrillers series.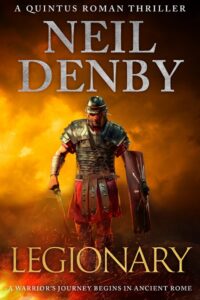 17 BC
Julius Quintus Quirinius, like many citizens in the years after Rome's civil wars, must volunteer with the Roman army or be sold into slavery.
Keen to prove his worth, he becomes a member of the IXth Legion, but after only six months his cohort suffer a brutal defeat, the result of stupidity and cowardice.
Cowardice in a legionary carries a heavy punishment: the sentence of decimation – to live or die at the whim of the gods with the unlucky ones clubbed to death by their fellow soldiers.
Ursus, the man killed in Quintus' group, lays a heavy charge on the youth, asking him to look after the remaining men and to take care of his family back in Rome.
Keen to fulfil Ursus' last wishes, Quintus helps lead his cohort south to defeat the tribesmen skulking in the mountains in the hope that the IXth legion's reputation will be restored.
But if they win the fight, their reward may not be the prize they had hoped for… And it soon seems as if returning to Rome is further out of reach than ever…
We are thrilled to be celebrating five years in business this month and we are incredibly grateful to all the writers, agents and literary estate holders who have helped us bring to market such a vibrant and diverse list of books.
Since launching Sapere Books in March 2018, our list has grown to include over six-hundred books by over one hundred authors. We have sold over 3 million books to date with 500 million pages read through Amazon's Kindle Unlimited program.
In 2019, we employed our first full-time staff member, Natalie Linh Bolderston, who now holds the title of Assistant Editor, and in 2020, Matilda Richards and Helen Jennings both also joined our editorial team. They have all been essential to our ongoing success and we are over the moon that they are continuing the journey with us as we celebrate our first big milestone.
In 2020, we launched our non-fiction list, which includes classic works by authors such as E R Chamberlin, Sir Peter Gretton and John Bowle. And we are now pleased to announce that we are also hiring another staff member to help look after our burgeoning military history and military fiction list.
Since launching, we have focussed primarily on fiction, particularly historical fiction and crime fiction, and in 2021 we created our first historical writing contest, asking for entrants to submit a series outline loosely based on briefs we set. The response was so strong that as well as signing up five prize-winners we also signed ten more authors from the shortlisted entries.
We have always been keen to foster a community among our authors. In 2020, to combat some of the isolation due to the pandemic, we started running weekly Zooms for our authors to join and chat about their writing. These have become a valuable part of our ethos and we want to continue to make our authors feel welcomed, valued and part of the Sapere Books family.
We are also proud to announce that we have been certified Carbon Neutral since 2021 and we have created our own Sapere Books forest, planting a tree for every author that we work with.
We look forward to continuing to build strong relationships within the writing community and to publishing more brilliant genre fiction to capture the imagination of readers. Thank you again to everyone who has supported us and we hope you continue to love our books!
Amy, Richard and Caoimhe
Testimonials from four of the authors who launched with us in 2018:
David Field, author of the Medieval Saga series, the Tudor Saga series and many more 
By one of life's happy coincidences, I came across Amy Durant just when the publisher that had commissioned my first historical novel series decided to close down. Five years later I've published over twenty historical novels with Sapere, with ten more waiting to go.
When you become a member of the Sapere family, you're all set for a rewarding writing career. If the quality's right, you know that your latest 'baby' will be assured of a good home. They provide great editing, superb covers, expert marketing, regular royalty payments and guaranteed replies to your emails. Sapere authors have indeed been smiled upon by the patron saint of aspiring writers.
Keith Moray, author of the Inspector Torquil McKinnon series
Being published by Sapere Books has been a revelation for me as a writer. From the very first moment that Isabel Atherton, my agent at Creative Authors, arranged a chat with Amy Durant it has been a fabulous experience. Over the past five years, I have seen my backlist of fiction published along with five new novels, and I have three more under contract. Every aspect of book production from editing, cover design, publicity and marketing has been handled with flair and efficiency. On top of that, communication could not be easier or quicker, and Sapere Books have created a friendly atmosphere among all of the authors that makes me feel pleased to be part of the Sapere Books family. I could not be happier than I have been with Sapere Books, who are in my opinion without parallel in the publishing industry.
Linda Stratmann, author of The Early Casebook of Sherlock Holmes and the Mina Scarletti Mysteries 
Becoming a Sapere Books author is like joining a warm and welcoming family, dedicated to providing the best for authors and readers. An experienced and hardworking team offers a soundly professional service, always on hand for support and advice. The last five years has seen Sapere grow and flourish, but never losing that personal touch.
Elizabeth Bailey, author of the Lady Fan Mystery series
Working with Sapere has been the most enjoyable and rewarding publishing experience in all my thirty-odd years as an author. That my career is flourishing is testament to the care and attention given to every book. Authors are encouraged to interact and support each other, which makes me feel part of a family, parented by the nurturing and talented Sapere team. Long may they reign! Oh, and we all love our covers!
Congratulations to Linda Stratmann, whose eerie historical mystery, Sherlock Holmes and the Persian Slipper, is published today!
Sherlock Holmes and the Persian Slipper is the fourth Victorian crime thriller in the Early Casebook of Sherlock Holmes series.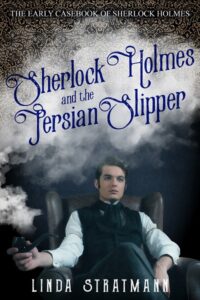 London, 1877
When medical student Mr Stamford is visited by his cousin, Lily, he is disturbed by the sinister tale she relates.
Lily's friend, Una, has recently inherited an old country house and settled down to married life in Coldwell, a small Essex village. However, Una's letters to Lily indicate that she is alarmed by her new husband's secretive behaviour — especially when she discovers a gun in his drawer, tucked inside a Persian slipper. Fearing for her friend's safety, Lily asks Stamford to pay Una a visit.
To his dismay, Stamford arrives in Coldwell to find that Una's husband, John Clark, has been found dead, lying in bed with a gunshot wound in his chest. Close examination reveals that the bullet was fired from Clark's own gun, through the toe of the slipper.
Stamford loses no time in alerting his acquaintance, Sherlock Holmes — an artful young sleuth — hoping that he can shed some light on Clark's death.
As Holmes and Stamford begin to probe Clark's past, it soon becomes obvious that he had plenty to hide. And when Holmes hears of further suspicious disappearances, he starts to search for the connection between the sinister mysteries…
Congratulations to Richard Kurti, whose absorbing historical mystery, Omens of Death, is published today! Omens of Death is the first book in the Basilica Diaries Medieval Mysteries series, set in fifteenth-century Rome.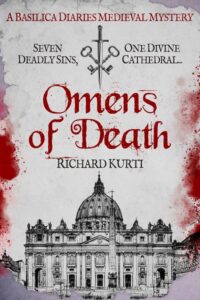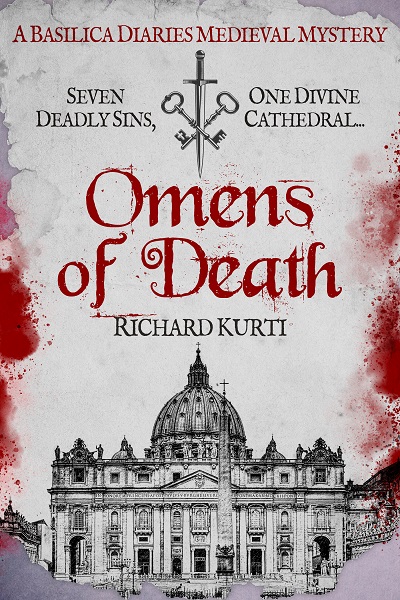 1497, Rome
Wealthy merchant's daughter Cristina Falchoni has a vision: to create a magnificent cathedral in the heart of Rome. Europe is in desperate need of a powerful unifying symbol, and a great basilica, built over the tomb of St Peter, will be a rallying point for Western civilisation.
With the help of her brother Domenico, as Head of Security at the Vatican, Cristina manages to persuade Pope Alexander VI to cleanse his conscience by reviving a decades old plan to construct a new basilica as a celebration of God's greatness. Whatever bribery, corruption, lechery, or assassination lay in the Borgia Pope's past, all would be forgiven; he could atone through stone.
But when a prominent aristocrat is found brutally murdered in a grotesque parody of the martyrdom of St Peter, Pope Alexander fears it is a divine warning, a message from God not to tamper with the revered shrine.
Realising that their dream of a glorious new cathedral is in jeopardy, Cristina and Domenico urgently start to investigate the grisly murder.
But as more ominous events torment Rome, they soon realise that whoever is behind these strange portents will stop at nothing to get their own way — even if it means killing the Pope himself.
With the Pope's life in danger, can Cristina and Domenico uncover the truth before it's too late? Or are they about to become the killer's next targets?
Congratulations to Adele Jordan, whose page-turning espionage adventure, A Spy at Hampton Court, is published today!
A Spy at Hampton Court is the third book in the Kit Scarlett Tudor Mysteries Series.
1585, London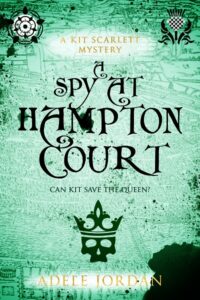 Queen Elizabeth is gravely ill and her spymaster, Francis Walsingham, has received intelligence that there is a plot to assassinate her.
He sends his protégé Kit Scarlett and Scottish agent Iomhar Blackwood to gather information.
To their horror, they discover there is a plot to blow up Hampton Court Palace.
With Queen Elizabeth too unwell to be moved from the palace, it is imperative the plot is foiled as quickly as possible.
A search of Hampton Court is launched, with Iomhar leading the way, while Kit is given the task of guarding the queen.
Watching her queen fighting death and suspecting she has been poisoned, Kit soon realizes the threat could be within Hampton Court's own walls…
Is there an enemy spy at the palace? Has gunpowder already been planted by an assassin? And is someone in Queen Elizabeth's inner circle slowly poisoning her…?
Congratulations to Amy Licence, whose page-turning Tudor drama, Troubled Queen, is published today!
Troubled Queen is the second book in the Marwood Family Tudor Saga Series.
1528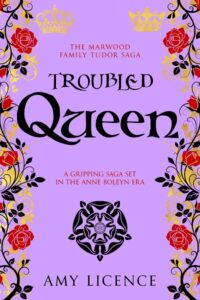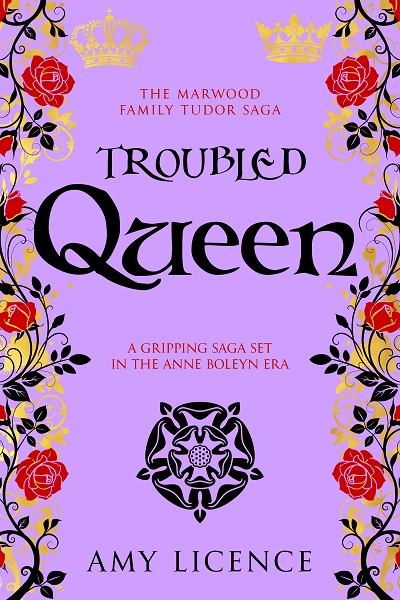 Escaping from her family's scandalous involvement with Anne Boleyn's circle, Thomasin Marwood is beginning a new life in the service of Queen Catherine of Aragon.
Thomasin is trying to forget Rafe Danvers, the man who stole her heart and then betrayed her, and when a group of Venetians arrive at court, she is drawn to the sophisticated Nico.
But a great danger is lurking. The dreaded sweating sickness has returned, which claimed the life of Catherine's first husband, Prince Arthur, many years ago.
Catherine and her ladies are forced to flee, and their shared isolation with King Henry brings the couple closer again.
But Anne Boleyn will not let herself be forgotten.
Thomasin finds herself torn between new friends and old loyalties as Rafe comes back into her life.
Who will win Thomasin's heart? Will she survive the dreaded sickness?
And will Anne Boleyn become victorious in her quest for the throne?
Congratulations to Stephen Taylor, whose absorbing dual-timeline mystery, The Mystery of Rufford Abbey, is out now!
When historian Toby Wyatt receives a collection of chronicles written by Brother Roger of Hathern — a medieval monk who lived at Rufford Abbey — he is plunged into a nine-hundred-year-old mystery.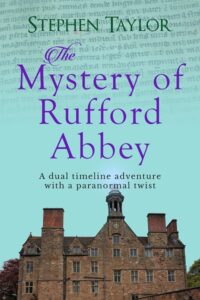 The monk tells the story of Margaret of Wellow, a fifteen-year-old girl who was accused of witchcraft after experiencing strange visions. After careful reading, Toby realises that Margaret seems to have been able to see into the future.
Back in the present day, a woman vanishes without a trace and the police are drawing a blank. Toby's research takes a bizarre turn when he discovers a link between the woman's disappearance and Margaret's visions.
Faced with a seemingly impossible solution to the mystery, Toby begins to question his instincts. And as the past collides with the present, he must decide whether he can put his faith in a girl who has been dead for nine-hundred years…
Congratulations to Patrick Larsimont, whose thrilling wartime adventure, The Lightning and the Few, is published today!
The Lightning and the Few is the first book in the Jox McNabb Aviation Thrillers series: action-packed, authentic historical adventures following a RAF pilot during the second world war.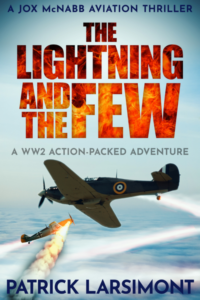 Scotland, 1939
When Jox McNabb is expelled from school he is forced to look to his future.
Inspired by the sight of a Hurricane flying over him, he becomes determined to join the RAF.
And after basic training, Jox is posted to RAF Montrose with the growing group of other recruits he has met along the way.
Battling the bleak Scottish elements and finding themselves immediately thrown in at the deep end, the lads struggle to keep up with the training.
Many are deemed unfit for service, and after tragedy strikes, Jox questions if he's got what it takes.
Can Jox earn his wings to face Blitzkrieg and defend his country in its hour of need? Does he have the courage and skill to become one of The Few? Will he beat the odds to survive his first battle?
Congratulations to David Field, whose gripping historical saga, The Absentee King, is published today! The Absentee King is the fifth book in the Medieval Saga series.
England, 1189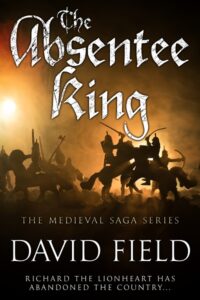 Richard the Lionheart has been crowned King of England.
But his obsession with fighting in the Third Crusade sends him off to foreign lands.
The nation is left in a perilous state, with high public offices sold off, and trusted favourites left to rule during Richard's absence.
Richard's dissolute and envious younger brother John feels humiliated, not least when Richard declares his four-year-old nephew Prince Arthur to be his heir, and he causes unrest throughout the nation by enforcing harsh laws designed to keep the population under his iron fist.
Chief Justice, Earl William of Repton, is ordered to investigate the possibility that John is seeking to undermine his brother Richard's rule.
And when news reaches England that King Richard has been captured, and is being ransomed by Henry VI of Germany, William becomes convinced that John is plotting to seize the English crown.
Will Richard be released? Will he return to claim his throne?
Or will John succeed in his mission to overthrow the absentee king…?
Congratulations to Justin Fox, whose thrilling wartime adventure, The Wolf Hunt, is out now! The Wolf Hunt is the second book in the Jack Pembroke Naval Thriller series.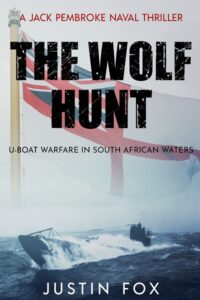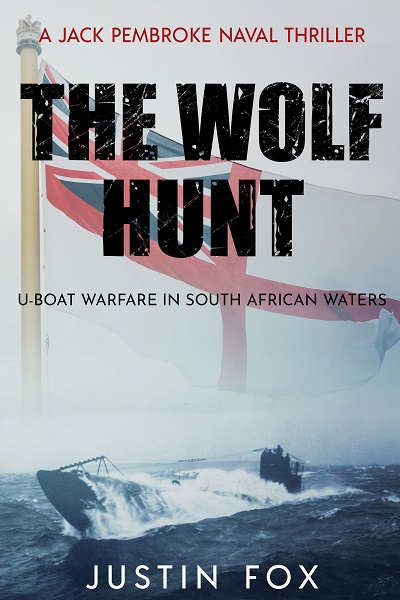 1941
Lieutenant Jack Pembroke has found a new home and new love at the Cape, but it will all hang in the balance with the arrival of the enemy in South African waters.
With the Mediterranean all but closed to maritime traffic, and Rommel's forces rampaging through North Africa, this sea route is vital to supplying the Allied forces in Egypt.
But German U-boats have been sent by Admiral Donitz from their bases on the west coast of France to cripple the convoy route.
Jack is put in command of a small anti-submarine flotilla in the Royal Navy base of Simon's Town, South Africa.
But he has very little time to train his officers and men, and prepare his ships, for the arrival of the Nazi wolf packs.
With the Cape under attack, Jack has to escort a vital convoy from Cape Town to Durban.
But with the enemy U-boats lying in wait in the storm-ravaged waters, he'll be luck to make it out alive…
Congratulations to C. P. Giuliani, whose absorbing Tudor espionage novel, A Treasonous Path, is out now!
England, 1583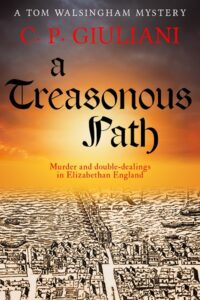 Tom Walsingham is back in London, being groomed for intelligence work by his spymaster cousin, Sir Francis.
An anonymous informer has started sending letters from the French ambassador's residence, claiming to have bribed the man's secretary to pass on information.
The informer has discovered messages between the French and Mary, Queen of Scots, which could harm the English Queen Elizabeth.
When someone who works for the French Ambassador is killed in suspicious circumstances, Sir Francis sends Tom to investigate the matter – and to uncover the identity of the informer.
Tom must find a way into the French Ambassador's good graces and make friends within his retinue without giving himself away.
And as the news from Scotland grow more and more alarming, it becomes imperative that Tom unveils the identity of the secret informer and exposes the intrigues at play.
Can Tom unravel the mystery and protect the Queen? Will he unmask the killer?
Or could he find himself the target of a deadly plot…?
Congratulations to J. C. Briggs, whose thrilling Dickensian adventure, The Jaggard Case, is published today!
The Jaggard Case is the tenth urban mystery in J. C. Briggs' literary historical series, the Charles Dickens investigations, a traditional British detective series set in Victorian London.
London, 1851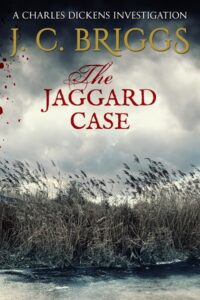 With Superintendent Sam Jones away in Southampton on the trail of missing murderer Martin Jaggard, his wife, Elizabeth, enlists the help of Charles Dickens when her beloved servant, Posy, goes missing.
Meanwhile, Jones apprehends Jaggard's mistress, Cora Davies, who is in possession of stolen jewels belonging to Jaggard's murder victim, Sir William Pell.
But Jones is no closer to finding the man himself, so he returns to London where he believes Jaggard may be hiding.
Dickens and Jones discover that their separate cases both have links to Clerkenwell – a notorious haunt for criminals and forgers.
And when they suspect they are being followed, they realise Jaggard may be onto them.
Was Jaggard behind Posy's abduction? Is the servant girl still alive?
Or will more victims be found dead in the mysterious Jaggard Case…?
Congratulations to Phillipa Vincent-Connolly, whose fabulous Tudor adventure, The Anne Boleyn Cypher, is out now!
The Anne Boleyn Cypher is the first book in the Timeless Falcon Dual Timeline series, a timeslip alternative history novel with a time-travelling protagonist set between the modern day and the Tudor period.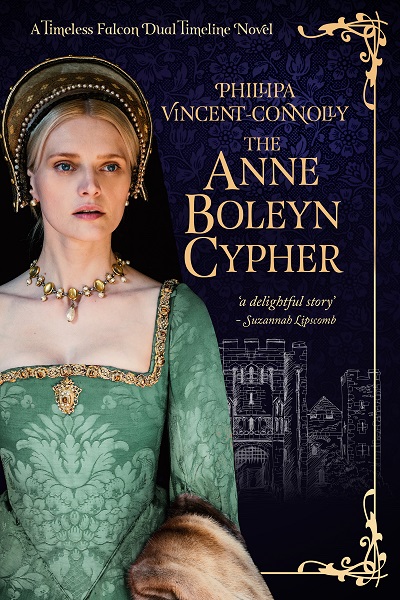 When twenty-year-old history student, Beth Wickers starts her second year of university, she has no idea that her whole world is about to be turned upside down.
Beth's favourite lecturer gives Beth a box of books on Tudor history to borrow, and nestled among them is an ornate cypher ring with the letters 'AB' inscribed onto it.
When Beth tries the ring on, the unimaginable happens.
It carries her back through time to Hever Castle in 1521. And she is no longer in her professor's office, but in the bedroom of none other than Lady Anne Boleyn.
Beth quickly becomes enchanted by Tudor England and is captivated by Anne. But she knows she can't leave her loved ones behind forever.
Tormented by the knowledge of what will happen to Anne in the future, can Beth stop herself from intervening and rewriting history? Can she use the cypher ring to return home?
Or will Tudor life be too hard to leave behind…?
Congratulations to Keith Moray, whose gripping historical thriller, Death of a Poet, is published today!
Death of a Poet is the first book in the Ancient Egypt Mystery series.
275 BC, Alexandria
Hanufer of Crocodilopolis, newly appointed Overseer of the Police in Alexandria, is keen to prove himself worthy to both the citizens of the city and to the Pharaoh, Ptolemy Philadelphus.
When an altar is desecrated with a poem intended to insult the Pharaoh and his wife, Queen Arsinoe, Hanufer and his trusted sergeant Sabu are tasked with discovering who committed the outrage.
As the poet himself, Sotades the Obscene, was recently executed, Hanufer sets about finding out who else is familiar with his poetry.
Before long another poet is found murdered – a poem by Sotades left near the corpse as a macabre calling card.
With a growing number of murders to be investigated, Hanufer must make his mark and solve the mysteries.
But just where — and how high up — will the clues lead him?
Did Sotades really drown? Is there a serial killer on the loose in Alexandria?
And can Hanufer appease both the Pharoah and the gods?
Congratulations to Graham Ley, whose captivating French Revolution saga, Heir to the Manor, is out now!
Devon and Brittany, 1796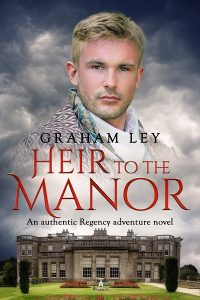 As the conflict in France rages on, the Wentworth family — Anglo-French aristocrats — must find their place in a changing world.
Staying with friends in Cornwall and Plymouth, young Amelia is widening her social circles at soirees and assemblies. Finding herself in the company of several eligible gentlemen, she begins to wonder whether romance is on the horizon.
After fighting in France, Justin has married Amelia's friend Arabella and the two have settled down at Chittesleigh Manor, his Devonshire estate. However, Arabella still feels responsible for Amelia and vows to find a way to protect her from unscrupulous suitors.
Hailing from Brittany, Sempronie — Amelia and Justin's mother — feels her birthplace calling her home, despite the dangers of returning. What's more, there is a long-buried family secret that she must put right before it's too late…
Congratulations to Linda Stratmann, whose gripping historical mystery, Sherlock Holmes and the Ebony Idol, is published today! Sherlock Holmes and the Ebony Idol is the third Victorian crime thriller in the Early Casebook of Sherlock Holmes series.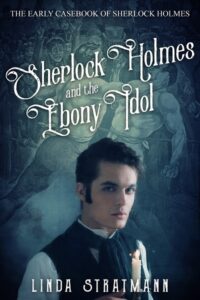 When a pugilist dies at a local boxing demonstration attended by medical student Mr Stamford and his acquaintance Sherlock Holmes, a post-mortem reveals the death is due to natural causes.
But when the corpse of another boxer is discovered clutching a small wooden carving – the ebony idol – Holmes begins to suspect that sinister forces are at work.
His suspicions seem confirmed when the companions hear about a previous death in the ring.
Tasked by the man's widow to bring his killer to justice, Holmes and Stamford are swiftly drawn into their most curious case to date.
Click here to order Sherlock Holmes and the Ebony Idol
Congratulations to Adele Jordan, whose thrilling historical espionage novel, The Gentlewoman Spy, is published today!
What happens when the spymaster's right-hand man turns out to be a woman…?
1584, London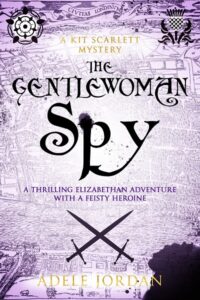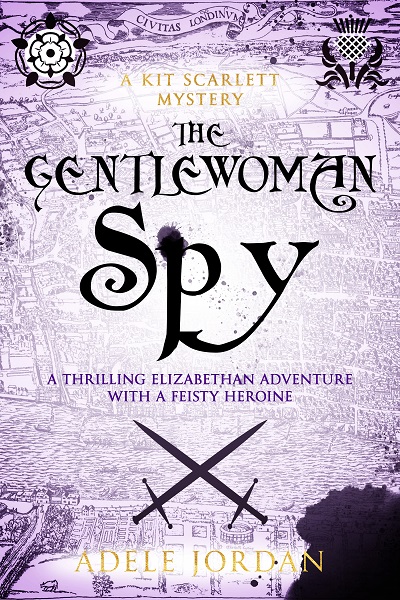 Sir Francis Walsingham, spymaster to the Tudor Queen Elizabeth has trained Kit Scarlett since she was a girl. Aware that she is able to infiltrate places that his male agents cannot, he sees her as an invaluable member of his team.
When Walsingham discovers that a rebel alliance is planning to overthrow Queen Elizabeth and put Mary, Queen of Scots on the English throne, he summons Kit immediately.
Together with loyal Scottish agent Iomhar Blackwood, Kit is tasked with finding out the full details of the treasonous plot.
Both used to working alone, Kit and Iomhar struggle to get along, but they must come together if they are to have any chance of stopping the deadly conspiracy against the queen.
Can Kit secure her place in a man's world? Will she save Queen Elizabeth?
Or will her daring ultimately be her downfall…?
Congratulations to Coirle Mooney, whose enchanting Medieval drama, The Cloistered Lady, is published today!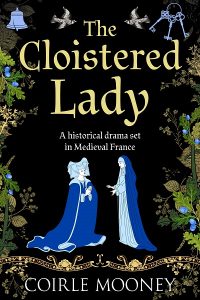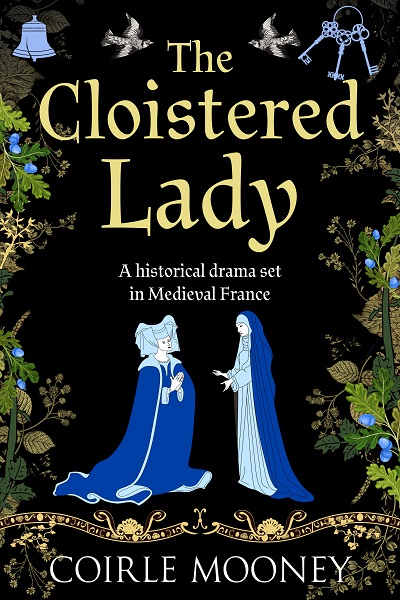 Eleanor of Aquitaine has been arrested for rebelling against her husband, King Henry II of England.
Her loyal ladies-in-waiting, Alice and Joanna of Agen have fled to the nunnery at Fontrevault, where they are anxiously awaiting news of their queen.
Alice and Joanna struggle to adapt to their cramped new home at the Abbey. Each is secretly nursing a broken heart – and harbouring unholy desires.
Joanna left behind a lover, Jean, at Eleanor's court in Poitiers, and Alice has long been in love with the queen's daughter, Marie.
And as the days stretch on with no news, they both begin to fear the worst.
What has happened to Eleanor? Will Alice and Joanna be forced to remain at the Abbey indefinitely? And will they ever be reunited with the ones they love?
Click here to order The Cloistered Lady
Congratulations to  C. P. Giuliani, whose page-turning Tudor adventure, The Road to Murder, is published today!
England, 1581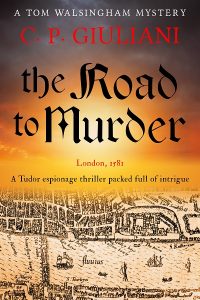 Nineteen-year-old Thomas Walsingham is thrilled to be working as a confidential courier, carrying messages between London and Paris for his illustrious cousin, Queen Elizabeth's spymaster, Sir Francis Walsingham … until everything goes wrong.
Tasked with escorting an English glove-maker to the French Court, Tom is also playing messenger for the Duke of Anjou, Queen Elizabeth's French suitor, as well as carrying confidential instructions to the English Ambassador in Paris.
When French soldiers assault his convoy en route, Tom loses a letter he had sewn into his clothes. And the next morning, the glove-maker is found stabbed to death.
Determined to prove himself, despite failing so disastrously in his mission, Tom pushes on to Paris, but when he gets there, he discovers the glove-maker may not have been who he said he was.
Certain the queen may now be at risk, Tom is determined to report back to Sir Francis, but he cannot afford to wait for official orders.
Who was the glove-maker working for? Why was he killed? Isolated and without a passport, Tom must travel incognito and return to the English court before anyone else ends up dead…
Click here to order Road to Murder
Congratulations to David Field, whose gripping medieval thriller, Traitor's Arrow, is published today!
When King William Rufus of England is killed mysteriously during a hunting accident in the New Forest in 1100, his younger brother Henry, who had been present, loses no time in riding hard to claim both the Treasury and the crown.
Rumours quickly being swirling that Henry was himself responsible for Rufus's death. One of Henry's main accusers is his older brother Robert, Duke of Normandy, who believes the throne of England is his by right and threatens to invade from across the Channel.
King Henry entrusts the task of proving his innocence to Sir Wilfrid Walsingham, a Saxon-born knight who was elevated by Henry's father, only to be cast by the perverted and tyrannical Rufus into a jail cell from which, after almost two years, few men could have emerged alive, or with their sanity intact.
Can Walsingham unearth the truth about Rufus's death and clear his name? Or will England be torn apart by those in power…?
Click here to order Traitor's Arrow
We are delighted to announce that we have signed a new dual timeline series set in the modern day and Tudor times by Phillipa Vincent-Connolly.
Told in authentic detail, the four-book series explores the intrigue and plots within King Henry VIII's court. The books include ingenious twists on Boleyn family history, retold through a twenty-first-century history student's eyes. The first instalment will be published later this year.
In Phillipa's words:
"It's very exciting to be working with Sapere Books on my first historical fiction series. The series is very special to me, as it includes appearances from some friends and colleagues of mine, who are featured as cameo characters from the modern day, with the history of the Tudor period also wound through, creating an exciting retelling of Anne Boleyn's story. The narrative moves between the present day and the middle of Henry VIII's reign.
"Set in South London and Queen Mary University of London, the first book follows an enthusiastic history undergraduate called Beth Wickers, who gets the shock of her life when her professor's gold cypher ring opens up a mysterious portal that takes her to Tudor England and Hever Castle, where she becomes an integral part of Anne Boleyn's life. She's been warned not to meddle or risk changing history, but can she allow her dear friend to go on to become the second wife of King Henry VIII and to meet a horrific death? Can Beth save herself from the machinations of the Tudor Court, or will she meet the same fate as the queen to be? Only the ring has the answer."
Amy Durant, publishing director of Sapere Books, commented: "I am thrilled to be working with Phillipa on these books, which breathe new life into the Tudor period. We are sure our readers are going to love the series!"
Click here to visit Phillipa's website
We are thrilled to announce that we have awarded winners in all six of the writing competition briefs that we set last year.
Each chosen author has won a five-book contract to work on the series they submitted for.
Screenwriter Richard Kurti has won The Medici Murder Mystery series brief.
The Second World War Aviation Thriller series brief was won by debut author Patrick Larsimont.
Established romance author Laura Martin scooped the Jane Austen Detective series brief.
Ghost-writer Bob Robertson snapped up the Age of Sail brief.
Academic author Neil Denby scooped the Ancient Rome Historical thriller brief.
And American author Rachel McDonough won the Tudor Maid Diaries series brief.
The quality of the entries were so strong that we have also awarded honourable mentions in nearly all of the categories and we are speaking to the shortlisted authors about writing other historical series for us based in the time period of their submission.
The shortlisted authors are:
Donna Gowland and Leann McKinley for the Jane Austen brief.
Daniel Colter and Ava McKevitt for the Ancient Rome brief.
David Bailey, David Mackenzie, Tony Rea and Suzanne Parsons for the WWII brief.
Kate MacCarthy for the Medici brief.
Alice Campbell, Angela Ranson, Katharine Edgar, Valerie Boyd and Maria Hoey for the Tudor brief.
Following the success of the first competition we are hoping to run the competition again later this year with a fresh set of writing prompts.
Congratulations to Natalie Kleinman, whose captivating Regency romance, Love's Legacy, is out now!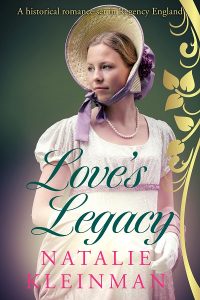 When her father — a countryside reverend — dies suddenly, young Patience Worthington is left with no home and little money. In urgent need of support, she is forced to seek out her estranged uncle, a viscount at the vast Worthington Place.
Patience arrives to find that her uncle has died and that the current viscount is her cousin, Gideon. After hearing her plight, he agrees to give her a home on the Worthington estate.
However, when Patience and Gideon learn the cause of the long-standing rift between the two sides of the family, they quickly begin to clash. Now too proud to accept his accept the viscount's charity, Patience soon leaves Worthington Place to seek shelter with her late mother's relatives in Bath.
With her kindness and beauty, Patience is an instant success in Bath society and regularly crosses paths with Gideon. Despite their differences, they enjoy each other's company and form a tentative friendship.
But when dark secrets once again threaten their growing bond, the cousins begin to wonder whether they can ever leave the shadows of the past behind…
Click here to order Love's Legacy
Congratulations to David Field, whose thrilling Medieval saga, Conquest, is published today!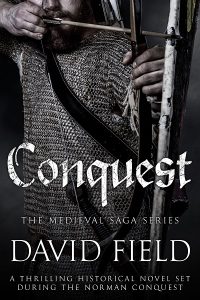 It's 1065 and the Saxon kingdom is under threat of invasion at both ends. From the north comes Harald Hardrada of Norway intent on pillage, while across the Channel, Duke William of Normandy is about to enforce his claim to the throne.
Between the two lie the villages and townships defended only by part-time armies maintained by the Earls of Wessex, Mercia and Northumbria, barely united under King Harold Godwineson.
It falls to brave and determined young men like Will Riveracre and Selwyn Astenmede to stand firm against whichever marauding invader reaches them first.
But the initial battle could be the least of their worries as a new king ascends the throne – threatening to annihilate their traditions and customs forever…
Congratulations to Ros Rendle, whose breath-taking dual timeline saga, The Divided Heart, is published today!
England, 1975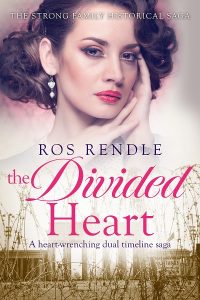 Having recently suffered heartbreak, twenty-five-year-old Heather Rawlins is ready to give up on love. Her confidence in tatters, she seeks solace in her new job at The Beeches Care Home for the Elderly.
When Heather meets Izzy Strong, the home's newest resident, she is surprised to find that they have an instant connection. And as they grow closer and Izzy begins to reveal her shocking past, Heather starts to question her own life choices…
Germany, 1927
With the Great War now a distant memory, Izzy is thrilled to be continuing her education in the beautiful city of Berlin. And when she meets the kind and handsome Garrit Shain, it seems that her happiness is complete.
But with the rise of the brutal Nazi party, ripples of unrest are once again spreading throughout Europe. And when war breaks out, the era of fragile peace comes to an end.
As a Jewish man, Garrit soon begins to fear for his life. Emboldened by her love for him, Izzy is determined to find a way to help Garrit and his family escape the horrors sweeping through Germany…
Click here to order The Divided Heart
We are delighted to announce that we have signed up a new Regency series by Graham Ley.
The Kergohan Regency Drama Series tells the story of the Wentworth family, English-French aristocrats living in Devonshire. The first book in the series, The Baron Returns, follows Justin Wentworth — a young army captain — as he makes the perilous journey to Brittany to assist a royalist uprising during the French Revolution.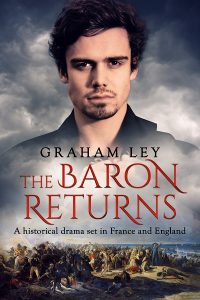 The Baron Returns is available to pre-order and will be published in April 2022. The second book in the series will be released later this year.
In Graham's words:
"I originally decided to write an historical novel in honour of my mother, Alice Chetwynd Ley, whose complete backlist (including a forgotten title, An Eligible Gentleman) has been published by Amy and the team at Sapere.
"After my first book had been accepted for publication, I found that a number of the characters were calling out for their stories to be followed through. So The Baron Returns was soon followed by a second novel, in which Arabella, the forthright heroine who had refused to let suspicions against her beloved Justin rest unchallenged, now stood up for his sister against an unscrupulous admirer.
"Both novels feature a dual and interweaved storyline, with characters in rural Brittany bound up with events in England in the turbulent period of the years just after the French revolution in 1789. And now a third novel is in preparation, which casts the intrigue into Devon and London as well as embracing love and betrayal in Brittany.
"The name of the series, The Kergohan Regency Drama Series, refers to the manor in rural Brittany that is at the centre of much of the story. The cover of The Baron Returns sets the scene magnificently, and I am delighted to have become a Sapere author."
Click here to pre-order The Baron Returns
Congratulations to Tim Chant, whose exhilarating nautical action novel, Mutiny on the Potemkin, is published today!
Mutiny on the Potemkin is the second book in the Marcus Baxter naval thriller series: action-packed, authentic historical adventures following former Royal Navy officer Marcus Baxter during the early 1900s.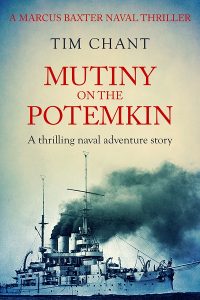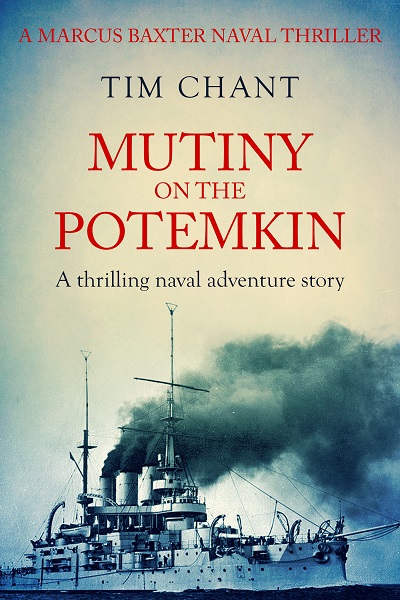 Marcus Baxter may have survived one naval battle, but his troubles are far from over.
Despite serving with the Russian navy aboard the Yaroslovich, he is arrested by the Tsarist secret police for conspiracy and sent west on the Trans-Siberian railway to St. Petersburg. Competing factions within the secret police disrupt his journey and he finds himself in Odessa.
Odessa, though, is in the grip of revolutionary riots and Baxter finds himself trapped in the city as violence and anarchy spreads.
The crew of the Potemkin has mutinied, killing most of the officers and bringing the battleship into port.
When Baxter realises a friend is trapped in the carnage, he is determined to get onboard the battleship.
But will he make it out alive?
Click here to order Mutiny on the Potemkin
Congratulations to Linda Stratmann, whose fabulous historical mystery, Sherlock Holmes and the Explorers' Club, is published today!
Sherlock Holmes and the Explorers' Club is the second Victorian crime thriller in the Early Casebook of Sherlock Holmes series.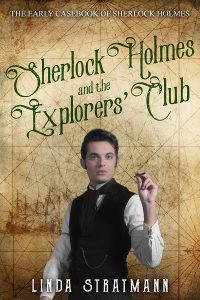 When the preserved foot of a dead man with extra toes arrives at St Bartholomew's Medical College, the students are fascinated. However, despite this unusual feature being reported in the press, the man's identity remains a mystery.
Intrigued by the puzzle, medical student Mr Stamford calls on his acquaintance Sherlock Holmes — an eccentric but brilliant young sleuth — to help him learn more about the deceased.
With only the man's boots and a few possessions to examine, Holmes relishes the challenge. He soon finds a coded message hidden inside the man's purse, which suggests a possible connection to criminals or spies.
Over the course of their investigations, Holmes' and Stamford's suspicions are strengthened when they learn of further shocking deaths. It soon becomes apparent that the men who died all belonged to the mysterious Explorers Club — and the lives of the remaining members may also be in danger.
Although the deaths look like accidents, Holmes is convinced that the men were murdered. And with conspiracy and intrigue lurking at every turn, he must now expose the secrets of the Explorers' Club before the next member meets a grisly end…
Click here to order Sherlock Holmes and the Explorers' Club
Congratulations to Marilyn Todd, whose gripping historical mystery, Dead Drop, is published today!
Dead Drop is the fourth book in the Julia McAllister Victorian Mystery series: thrilling British detective novels with a courageous woman sleuth at the centre.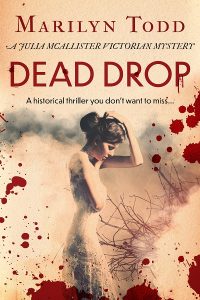 Seeing an easy way to pay off her debts, Julia McAllister takes in three female lodgers from a travelling show.
With musical halls more popular than ever, Buffalo Buck's Mild West is the perfect antidote to the noise and smoke belching out of the factories, and the tide of Julia's fortune quickly turns.
Until one of the three girls is found hanging under a bridge.
Julia doesn't believe it was suicide. Annie had been excited about the future, not depressed.
And when another body is found on the railway line, a distraught widower, inspired by Julia's role as crime scene photographer, asks for her help as the police are refusing to give out any details.
When Julia raises the matter with Detective Inspector John Collingwood, he explains that they're keeping the case close to their chest because the body had ligature marks, showing he'd been chained up. Their fears are that this is just the tip of a particularly nasty iceberg.
Is Annie's death connected to the body on the railway? Can Julia work with Collingwood to solve the mystery?
Or will the secrets they uncover put their lives in grave danger…?
Congratulations to Ros Rendle, whose moving romantic saga, Resistance of Love, is published today!
Resistance of Love is set in England and France before and during World War II, and is the second book in The Strong Family Historical Saga series.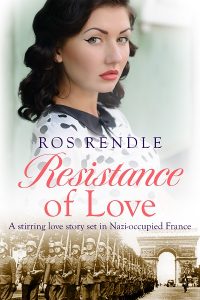 After spending ten years in Australia, Delphi Strong is on a ship back to England with her daughter, Flora.
While on board, Delphi meets Rainier, a charming vineyard owner on his way home to France. Forming an instant mutual attraction, the two share a whirlwind romance before disembarking.
Unable to forget her, Rainier crosses the channel a few months later and asks Delphi to marry him. Equally lovestruck, Delphi accepts, and she and Flora join Rainier in France.
However, their idyllic lifestyle is shattered when war breaks out and the Nazis begin to occupy the country. Forced to flee to the Free Zone in the south, the family must now pull together to resist the enemy…
Click here to order Resistance of Love
Natalie Kleinman is the author of THE RELUCTANT BRIDE and THE GIRL WITH FLAMING HAIR: glittering romantic adventures set in Regency England.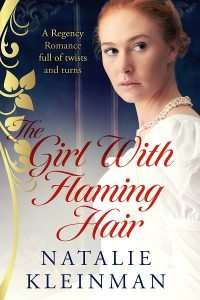 Research can come in many forms, particularly when it's for a historical novel. One of my shelves is heaving under the weight of the books I have covering my chosen period, Regency England. And those are just the research books. Another is overflowing with novels set in that era.
Unlike our predecessors, we also have access to a wealth of information on the Internet, so much that if we allowed ourselves to follow its pull we'd never get any words of our own written, so we have to be selective. All these sources have helped in bringing to the page my latest book, The Girl With Flaming Hair.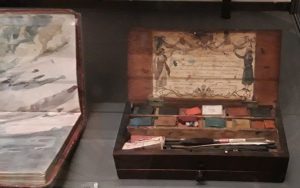 That said, there's nothing like seeing real artefacts. Not so easy, you might think, living as we do two hundred years after the time in question. And here's where I feel particularly lucky. I live in London with easy access to its plethora of galleries and museums. A while ago I visited the Victoria and Albert Museum and amongst its treasures I found things that not only helped with my work in progress at the time but which also affirmed why I love this period so much. One of my characters in another book is a keen artist, and this Watercolour Box circa 1820 is a particularly treasured image.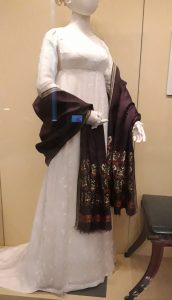 Women's dress changed dramatically after 1785. The rich fabrics and complicated formal shapes of the late 18th century gave way to simple, lighter fabrics that draped easily. These new gowns achieved something of the effect of the simple tunics shown on classical Greek and Roman statues and vases. This beautifully elegant creation is muslin embroidered with cotton thread.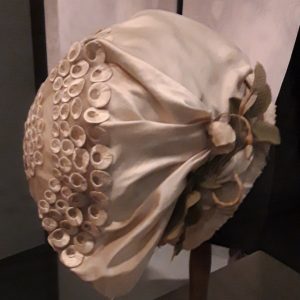 You can see how easy it is to get carried away by research when it can be so enjoyable. I'll leave you with one more image before I tear myself away – I have another book to write!
This is an evening cap (1818-23) described as silk and net embroidery with silk thread; wired paper and muslin artificial flowers. I SO want one!
Click here to order The Reluctant Bride
Click here to order The Girl With Flaming Hair
We are thrilled to announce that we have signed a new Tudor saga series by Amy Licence.
Told in vibrant, colourful detail, the series follows young Thomasin Marwood as she finds her place within the turbulent court of Henry VIII.
Amy's previous fiction has been met with critical acclaim.
In Amy's words:
"I'm very excited to be able to publish the story of the Tudor Marwood family with Sapere Books. The saga will bring to life the English court of the 1520s, with all its intrigue and drama, through the eyes of my narrator, young Thomasin. Newly arrived from the country, she and her friends must navigate the treacherous paths of politics and love, finding their loyalties divided as Henry VIII tries to cast off his Spanish wife Catherine in favour of the young, vivacious Anne Boleyn. Temptations lurk around every corner, and secrets are waiting to be revealed, as Thomasin embarks upon a lengthy court career that will span all of Henry's reign."
Click here to visit Amy's website
We are delighted to announce that we have signed up the fourth instalment of Alexandra Walsh's captivating Marquess House Series – dual timeline conspiracy thrillers with ingenious twists on Tudor and Stuart history – as well as the next novel in her new Victorian series.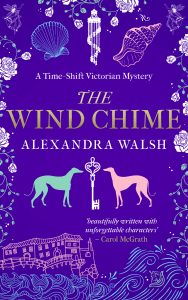 In Alexandra's words:
"It's wonderful to have signed with Sapere Books to continue writing about my favourite eras: Victorian and Tudor. THE MUSIC MAKERS tells the tale of another branch of the family tree established in THE WIND CHIME (the first novel in my new Victorian series). THE MUSIC MAKERS follows two timelines: one set in the Victorian era and one set in the present day. The Victorian timeline follows the life of Esme Blood, a singer and performer in the music halls and theatres of London. Adopted at birth, Esme has no desire to find her birth mother, but fate has other plans. In the present day, Eleanor Wilder is recovering from a serious illness and has returned to the family farm in Pembrokeshire to rebuild her life. Delving into Esme's life, she uncovers a tale of love, loss and survival, all of which help her to unravel her own problems and those of the man who has unexpectedly arrived in her life.
"My other forthcoming book, THE JANE SEYMOUR CONSPIRACY, is a return to Marquess House. Although I had always intended this series to be a trilogy, when I completed it in 2020 it felt as though there was more to tell. I resisted for a while but when Perdita, Piper and Kit began interrupting my research with suggestions, I realised my trilogy was about to expand. Having always pitched it as three-book series, I was unsure how Sapere Books would feel about it continuing, but my editor, Amy Durant, said she would be delighted to return to Marquess House.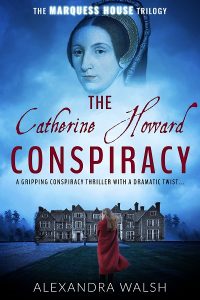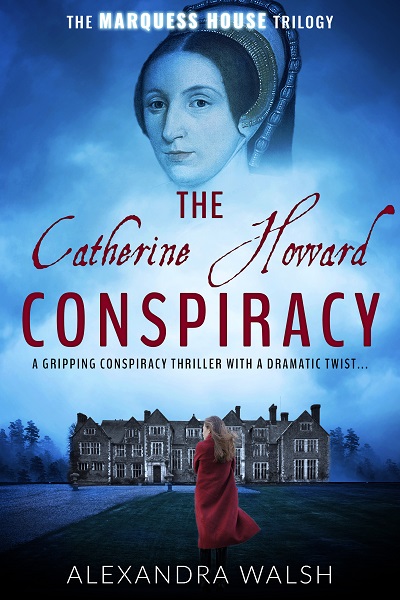 "THE JANE SEYMOUR CONSPIRACY follows Perdita and Piper as they fully embrace their lives at Marquess House. A friend of Kit's asks for advice on a manuscript that has been in his family's archive for generations, which seems to suggest an entirely new interpretation of the events leading up to Anne Boleyn's execution, Jane Seymour's marriage to Henry VIII and the death of the king's only acknowledged illegitimate son, Henry Fitzroy, Duke of Richmond and Somerset. In the present, danger reaches out to Perdita and Piper again as they realise their battle with the Connors family is far from over. THE JANE SEYMOUR CONSPIRACY will be released in 2022.
"Being part of the Sapere Books family is one of the best things about being published; Amy, Caoimhe, Richard, Natalie, Matilda and Helen make everyone feel so welcome and are a dynamic and forward-thinking team. My books could not be in safer hands. The weekly Zoom meet-ups with the other authors are fascinating, funny, inspiring and often educational! It's a great feeling to be part of such a talented group of writers and publishers who are always willing to help or offer advice."
Click here to find out more about The Marquess House Series
Click here to pre-order THE WIND CHIME
Following the publication of David Field's absorbing Esther & Jack Enright Mysteries, Tudor Saga Series and Carlyle & West Victorian Mysteries, we are delighted to have signed up his new Medieval Saga Series.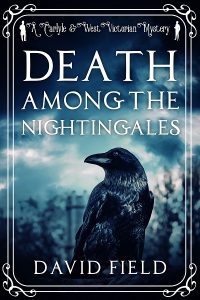 In David's words:
"I consider myself blessed to have found Sapere Books, who not only share my enthusiasm for historical novels, but also provide the most generous author royalties in the business, and never lose sight of the fact that their many authors have invested a massive amount of emotional energy into creating, nurturing, and revealing their characters.
"It's therefore with great optimism and a sense of purpose that I've embarked on my latest venture with them — the Medieval Saga Series, a set of seven novels that follow the fortunes of the same family from immediately prior to the Battle of Hastings all the way through to the death of Simon de Montfort in the Battle of Evesham in 1265.
"The first in the series — THE CONQUEST — introduces the Riveracres, a Saxon family living on the Sussex coast whose tiny village is directly in the path of Duke William of Normandy's invasion army, and the Astenmedes, the local Thegn's brood whose traditional privileged status is about to be shattered. Amidst the turmoil, two brave men, Will Riveracre and Selwyn Astenmede, form an unlikely partnership as they stand against both Duke William and Harald Hardrada's invading Viking force to the north."
Click here to find out more about the Esther & Jack Enright Mysteries
Click here to find out more about the Tudor Saga Series
Click here to find out more about the Carlyle & West Victorian Mysteries
Natalie Kleinman is the author of The Reluctant Bride, a glittering Regency romance with a strong-minded heroine at its heart.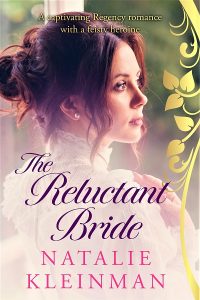 I spent the first few years of my career writing contemporary romantic fiction, firstly short stories and then novels, until the burning desire I'd had for so long pushed itself to the forefront. I wanted to write a historical novel set in England's glorious Regency period. Maybe I couldn't, but I had to try. I'd previously looked upon it as a presumption on my part even to consider it, bearing in mind my love for the works of Georgette Heyer and Jane Austen. But I wasn't trying to emulate them. I was trying to make my own contribution the genre that had given me so many hours of joy over decades. And so my first Regency novel, The Reluctant Bride, was born, to be followed by another, and then another. They'll be coming soon, so watch this space.
Charlotte Willoughby — the heroine of The Reluctant Bride — is a young woman of her time. Born into the aristocracy, she is as much tethered by her status as privileged. When she is forced by her father to marry the Earl of Cranleigh, purely to satisfy his own interests, she has no choice but to comply. Six weeks later, fate takes a hand when her husband is killed in a riding accident. Free of a tyrannical parent and a loveless marriage, Charlotte begins to enjoy her newly found independence. Gresham, the earl's cousin, undertakes to guard her from fortune hunters and, while she finds him arrogant and aloof, she cannot deny the security his protection affords her, particularly with regard to the unwelcome attentions of Lord Roxburgh. Acutely aware of the tension between the two men, Charlotte learns they have a shared history, the animosity of which still lies between them. With the coldness of one and the over-heatedness of the other, will she be able to find her own path to happiness?
Writing The Reluctant Bride, I settled into a deeply satisfying place where I was able to weave a tale while indulging in my love of the setting. I could see the magnificent houses and the glorious balls, but beneath all ran the story of a young woman, struggling with adversity, triumphing over it and finding her own way. I hope you enjoy it.
Click here to pre-order The Reluctant Bride 
Click here to subscribe to Natalie's newsletter
Set in seventeenth-century Leiden, The Netherlands, Graham Brack's funny and immersive Master Mercurius Mysteries follow Mercurius — a witty university lecturer-cum-sleuth.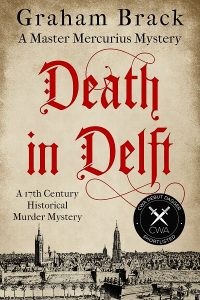 The first four books in the Master Mercurius series are published, and we are delighted to have signed up the next instalment: THE VANISHING CHILDREN.
In Graham's words:
"I've been delighted with the response from readers to the Master Mercurius Mysteries. It's wonderful to read good reviews, not only for myself, but also for Sapere Books, who always had faith in the stories. Being part of the Sapere family is very encouraging to any author; we enjoy our colleagues' successes. I wouldn't want to be anywhere else.
"The fifth book sees Mercurius sent to Amsterdam which — even in 1684 — was not a place where a minister who has led a sheltered life as he has would feel comfortable. On top of that, he has been sent to bully the city authorities into handing over their taxes in full. However, while he is there, he is approached by a local merchant who tells him that three children have gone missing, and their families have been fobbed off by Amsterdam's powers that be.
"So begins an inquiry that makes Mercurius question his own faith as well as his suitability for the task he has been given…"
Click here to order DEATH IN DELFT
Click here to find out more about the Master Mercurius Mysteries
The Scorpion Squad Military Thrillers follow an American Battalion fighting in the Vietnam War. Below, Kevin D. Randle (Lt. Col. USAR) — one of the authors behind the pseudonym Eric Helm — reflects on the real-life experiences that provided the inspiration for the series.
I graduated high school the day before my 18th birthday in June 1967. In July, I was on a bus headed to Fort Polk, Louisiana, for basic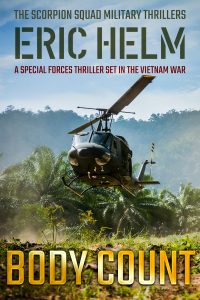 infantry training and in October, I was assigned to Fort Wolters, Texas, for my AIT, advanced individual training, which was as a helicopter pilot. From there I was sent to Fort Rucker, Alabama, to complete that training. In August 1968, as a 19-year-old teenager, I was appointed a warrant officer and then graduated from flight school as a helicopter pilot.
On September 23, 1968, I arrived in South Vietnam. We landed at Ton Son Nhut and were herded aboard buses that had no air conditioning. We all were covered with sweat within minutes of leaving the aircraft. The bus had screens over the open windows, but the pattern was something like an inch square. It wouldn't keep out the insects. Someone said it was to keep out the grenades, and someone else said, "Yeah. Now they tie fishhooks to them."
From Saigon we drove to Bien Hoa, Long Binh complex and the 90th Replacement Battalion. From there, a day or two later, I, with three other warrant officers, was assigned to the 116th Assault Helicopter Company at Cu Chi.
During that first week, I flew rarely. There was an orientation flight to show me the local area. There was a check ride to ensure that I knew what to do if the engine quit, and to demonstrate my other skills. When that was completed, I was assigned to a flight, and then began flying combat assault missions. That meant that we picked up soldiers in one place, took them to another and landed. While many of those missions were without incident, some of them were more than a little exciting. Nothing beats sitting in a pick-up zone to evacuate soldiers while the enemy pumps small arms fire into the flight. You're sitting in a plexiglass encased cockpit, easily visible to the enemy and have no recourse but to sit there as the windshields break and the instrument panel disintegrates.
One of the first night missions I flew, as what was known as a peter pilot, meaning that I was the co-pilot, was into an PZ we knew was going to be hot. The soldiers were taking fire and we were going to extract them. There were tracers flying all over the place. Red ones from our weapons and green and white ones from the enemy. They dropped a few mortars on us as well, which erupted into a shower of sparks and had that been just a little more colourful, it would have looked like fireworks.
Everyone took some hits, but most of the damage was superficial. One of the aircraft, if I remember correctly, was left in the PZ. The engine had been hit and failed. The crew was picked up by another aircraft, which means that they abandoned the aircraft and ran to one of the others. The gunships, which had been working over the tree lines and enemy positions, took it out with rockets, setting it on fire to prevent the enemy from getting anything of value from it.
We were on the ground for thirty seconds to one minute as the soldiers scrambled onto the helicopters. Our door gunners and crew chiefs used their M-60 machines in an attempt to suppress the enemy fire. They aimed at the muzzle flashes of the enemy weapons.
That was the last flight that night. Once we had the soldiers out, I suspect the Air Force might have dropped some ordnance on the enemy positions, or the artillery might have dropped a few rounds on them. I really don't know. Once we dropped off the soldiers, we were released and returned to Cu Chi so that maintenance could patch up the aircraft.
We are delighted to announce that we have signed a new Tudor mystery series by C P Giuliani.
The Tom Walsingham Mysteries follow a young sleuth as he becomes embroiled in the shady world of espionage. The first instalment will be published in 2021.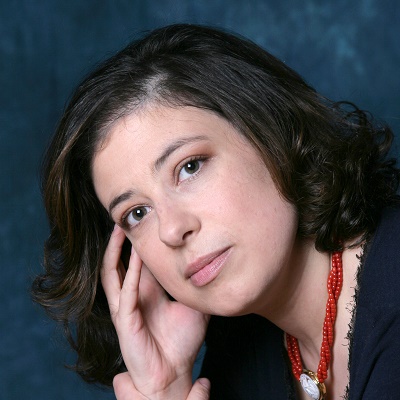 In Giuliani's words:
"Signing with Sapere Books for my first murder mystery series has been truly wonderful!
"Book 1, A Road to Murder, is set in 1581 between England and France, and follows a young diplomatic courier's efforts to untangle a murder that could have wider, political implications. With France constantly teetering on the brink of religious unrest, and Queen Elizabeth toying with the idea of marrying the French king's Catholic heir, even the death of a glove-maker can hide sinister machinations. And my hero, Tom Walsingham — a relation to Queen Elizabeth's powerful spymaster, Sir Francis Walsingham — knows better than most just what could be at stake…
"This is going to be my first publication in the UK, and Amy and the whole team at Sapere Books are being incredibly supportive, friendly and very competent — and they have gathered together a very welcoming author community. A lovely experience through and through."
Sapere Books are proud to sponsor the Crime Writers' Association's Historical Dagger Award, which is for the best historical crime novel set in any period at least 50 years prior to the year in which the prize is presented.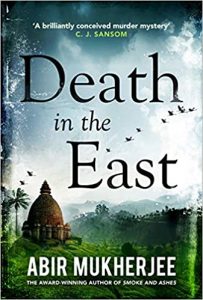 The 2020 shortlist featured eccentric doctors, notorious gangsters, stolen diamonds and much more.
On Thursday night, the fabulous Abir Mukherjee was announced as this year's winner at the Crime Writers' Association's digital awards ceremony. His winning novel, Death in the East, is the fourth instalment in his Wyndham & Banerjee Mysteries Series.
Set in 1920s India, Death in the East follows the continuing adventures of dynamic duo Captain Sam Wyndham and Sergeant Surrender-not Banerjee. Wyndham is haunted by an old case from his early days as a young constable, when his old flame Bessie Drummond was found beaten to death in her own room. Arriving at the ashram of a sainted monk – where he hopes to overcome his opium addiction – Wyndham finds a shadowy figure from his past, a man he believed was long dead. Certain that the man is out for revenge, Wyndham once again calls on Sergeant Banerjee for help. Together, they prepare to take on a sadistic and slippery killer…
We would like to send a huge congratulations to Abir, and to all of the wonderful authors who were longlisted and shortlisted this year.
Stephen Taylor is the author of A CANOPY OF STARS, a thrilling historical 19th century saga stretching from the legal courts of Georgian London to the Jewish ghetto in Frankfurt.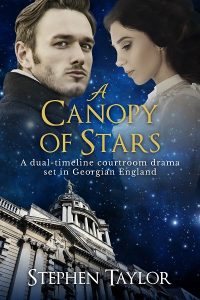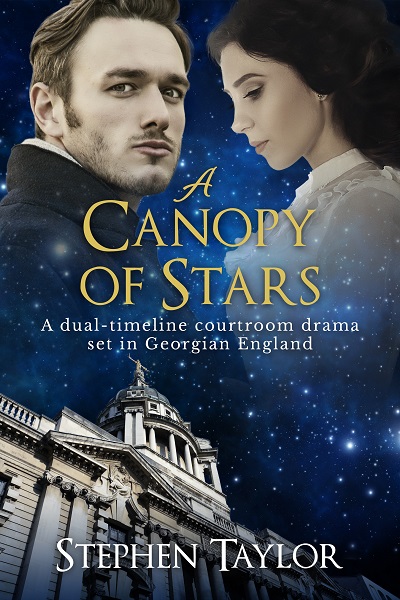 When I start to write a novel, the first thing I always do is open a document that I call 'Conceptualising'. I put down my initial thoughts, sketch out a skeleton storyline. Then I start researching and populate this document with historical facts and ideas that I can use.
When I came to write A CANOPY OF STARS, my first port of call was a website — Punishment at the Old Bailey: Old Bailey Proceedings Online. Here I could view actual cases going back hundreds of years. I came across the trial of Peter Shalley (REF: T17900113-17) that took place in 1790. Shalley was a German immigrant who was accused of the theft of half a sheep's carcass worth just 40 shillings. His story, through an interpreter, was that he was offered a shilling to carry the carcass to Oxford Road from a field outside London. When he said he didn't know where Oxford Road was, the man said: 'Don't worry, I'll walk behind you and each time you come to a junction, look behind you, and I'll point which way to go.' When he got to Oxford Road, the Watchman challenged him, and the other man ran away. To me, this was a reasonable defence — he had been duped.
But the system was stacked against him, for while he was an educated man, he was a Jewish immigrant and spoke little English; he was seen as just another piece of London's low life to be dispatched by the hangman with little ceremony and no one to mourn him. Even the valuation of the sheep at exactly 40 shillings made it a felony (not a misdemeanour) and therefore punishable by death.
I found this disturbing; it may have been over two hundred years ago, but I was stung by the injustice of the case. I was upset; the wrong done to this man was so plain to see and became like a nagging toothache. So I resolved to restructure A CANOPY OF STARS; it would still be a Georgian courtroom drama, but — through the character David Neander — I would also write Peter's own story as I saw it. Images danced in my mind; what sort of man was this Peter? Why had he left his native Germany; why had he come to England?
In England, this was a time of the enlightenment; there was a clamour for reform. Power, however, lay in the hands of the aristocratic landowners who viewed reform as a threat. In the German states, this was a time of nationalism, a distrust of all things un-German. This is the backdrop to David's story. How did he navigate his way through it?
Click here to order A CANOPY OF STARS
Marilyn Todd's witty and atmospheric Julia McAllister Victorian Mysteries follow a courageous female photographer-cum-sleuth as she investigates London's shadiest characters.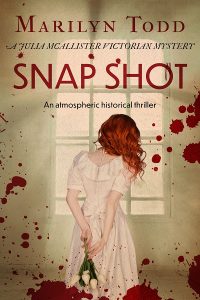 The first two books in the series — SNAP SHOT and CAST IRON — are already published, and we are delighted to have signed up the next two instalments.
In Marilyn's words:
"I'm thrilled to be continuing Julia's story, and quite frankly, having this series in the hands of a dynamic publishing team like Sapere is the icing on the cake!
"The third instalment, BAD BLOOD, sees Julia tasked with photographing the scene of a factory owner's murder. A man who treated his workers like dirt, and his wife even worse. It's not so much a question of who'd want him dead — more who wouldn't. But eight years earlier, his son was abducted, and Julia soon realises that the kidnap and murder are connected. The trouble is, knowing who's responsible is one thing, proving it is quite another. Especially when the killer knows she's on to them.
"This is followed by DEAD DROP. Music halls were a popular antidote to the noise and smoke belching out of the Industrial Revolution, but the lives of the entertainers were gruelling. When a young showgirl is found hanged, Julia doesn't believe it was suicide. Too late, she discovers that the truth hurts, but secrets kill, putting her own life on the line…"
Click here to find out more about the Julia McAllister Victorian Mysteries
Elizabeth Bailey's Regency-era Lady Fan Mysteries follow Ottilia, a courageous woman sleuth faced with gruesome deaths, buried scandals, witch hunts and more.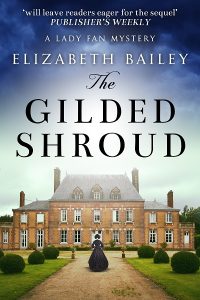 The first six books in the series are already published, and we are delighted to have signed up the seventh, THE DAGGER DANCE.
In Elizabeth's words:
"In THE DAGGER DANCE, Lady Fan is off to rescue a Barbadian slave girl accused of murder. I've been wanting to bring this story to light, since Ottilia long ago guessed her steward Hemp had a secret heartache for a lost love. Bristol was at that time a major port for shipping traders doing the rounds from Africa to England and the West Indies. The research was almost as engaging as writing the book.
"With this seventh adventure, I count myself a very lucky member of the Sapere Books author family. Sapere has done wonders for Lady Fan, and it's a joy to be with such a supportive and encouraging publisher where the author's contribution is so much valued and validated."
Click here to order the first Lady Fan Mystery, THE GILDED SHROUD
Click here to find out more about the Lady Fan Mysteries
J C Briggs' gripping Charles Dickens Investigations follow the famous writer-turned-detective as he dives into the seedy underbelly of Victorian London.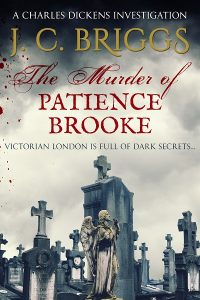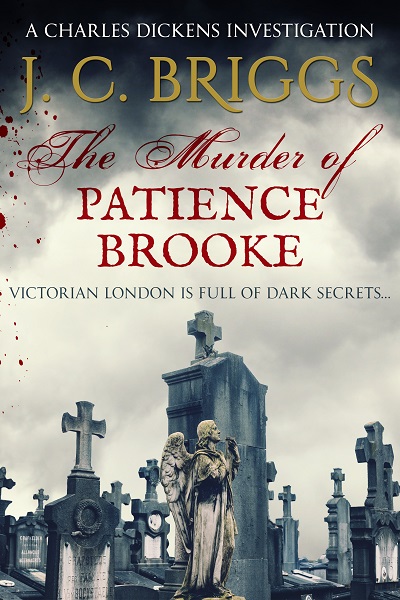 The first six books in the series have been published, and we are thrilled to announce that we have signed up the next two instalments.
In J C Briggs' words:
"I am thrilled that Sapere Books are to publish two new cases featuring Charles Dickens and Superintendent Jones. Number seven in the series is THE HAWKE SAPPHIRES, which begins at Hawke Court, an almost derelict mansion where Sir Gerald Hawke is dying. His two wives and his only son are dead. His heir is a clergyman, Meredith Case, for whom Hawke has one last command. Hawke has commanded all his vicious life and expects to be obeyed. Meredith Case must 'find Sapphire Hawke', who vanished over twenty years ago.
"A chance meeting with Charles Dickens sends Case to the north of England. Meanwhile, Dickens and Superintendent Jones of Bow Street are investigating the death of a young man who was found on the steps of a bookshop.
"Charles Dickens begins to suspect that the two cases are connected. He and the young detective, Scrap, experience a frightening night at Hawke Court.
"Book eight in the series is THE CHINESE PUZZLE. On the first day of The Great Exhibition in May 1851, a Chinese man bowed before Queen Victoria. It was assumed that he was a representative of the Celestial Empire. He wasn't. It was reported in the newspapers of the day.
"In THE CHINESE PUZZLE, behind the scenes the Home Secretary is furious at the breach of security. There have been attempts on the Queen's life before.
"And also concerning for the government, a wealthy banker and former opium merchant of Canton vanishes on the first day of the Exhibition. The Prime Minister, Lord John Russell, appoints Superintendent Jones to carry out a most secret investigation. The case may involve high-powered bankers and politicians. Jones cannot afford to get it wrong. Only Charles Dickens can help him find his way about the houses of some very important people. There is danger from high and low when the case takes them to the East End opium trade and some very dangerous criminals.
"It really is great to work with Sapere Books again and to know that they have faith in my series. They are a wonderfully supportive publisher to all the writers in the Sapere family."
Click here to order THE MURDER OF PATIENCE BROOKE
Click here to find out more about the Charles Dickens Investigations
Following the publication of Graham Brack's darkly funny Josef Slonský Investigations – atmospheric police procedurals set in Prague – Sapere Books recently started publishing his Master Mercurius Mysteries: 17th century crime thrillers set in Leiden, The Netherlands. Taking centre stage is Mercurius – a witty university lecturer-cum-sleuth.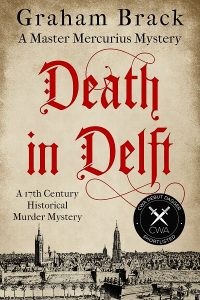 The first three books in the Master Mercurius series are published or available to pre-order, and we are delighted to have signed up the next instalment: THE NOOSE'S SHADOW. The fourth book sees Mercurius free from the demands of the Stadhouder – William I of Orange – for once as he is asked for help by a poor young woman whose husband faces execution for a murder he swears he did not commit. How can Mercurius refuse?
Graham says, "I was already part of the Sapere family after Amy signed me to write six Slonský novels, so I knew Sapere Books was the right place for my Dutch series too – and Slonský will be back! We're a very supportive bunch of writers who enjoy each other's successes, and the Sapere team is simply excellent. I couldn't imagine going anywhere else with the Mercurius books."
Amy says, "I have already worked with Graham on eight published books since we launched in March 2018, and I am thrilled to have signed his next book. I hope there will be many more! Fans of his previous series are already calling for a return of Slonský, and they seem equally smitten with Master Mercurius. I thoroughly enjoy reading Graham's books and look forward to editing many more in the series."
Click here to order DEATH IN DELFT 
Click here to find out more about the Master Mercurius Mysteries
Chapter One
The taxi swung out of the avenue and I got my first view of Grovestock House, its blindingly white stucco frontage gleaming in the autumn sunlight. The drive curved gently round a neatly manicured lawn and our wheels crunched on the gravel as we pulled up outside the front door.
As I stood outside waiting for the doorbell to be answered, I wasn't sure if there would be anything challenging in this case.
'Just go through the motions,' Dyer had said to me. 'There needs to be the appearance of a complete investigation, but we already know what happened. And remember, it's not me wanting another look at it, it's the Chief Constable. He's getting pressure from the press, who think we should have investigated the deaths more thoroughly. They're suggesting the case wouldn't have been tied up quite so quickly if the family wasn't so well connected.'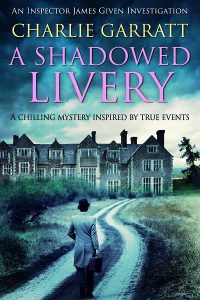 Briefly, we went through the file together. I recognised the outlines of the case from the newspaper coverage. "Warwickshire House of Death" had screamed one headline, followed by every grim detail of the tragedy. Lady Isabelle Barleigh had killed her wheelchair-bound son with a shotgun before turning the gun on herself. This had been quickly followed by the suicide of the young man's fiancée. What made the whole affair more chilling was that the couple were to have been married two days later. Instead, they were now sharing a graveyard. I'd felt ill reading the article but, on the face of it, the facts had looked clear. Nevertheless, I was hardly surprised when questions started to be asked about why the whole matter was despatched so quickly. The deaths had only occurred a few days earlier and, somehow, strings had been pulled to convene a quick inquest and then a funeral to replace the wedding celebrations.
Now I was wishing I'd argued more against being assigned to this one, especially as Dyer had taken me off the Jewish beatings investigation and passed it to that idiot Terry Gleeson. If what happened at Grovestock House was as clear-cut as the preliminary work suggested then why give it to me? I'd told him that there were plenty of other good coppers around who'd adequately tie up the loose ends. I think Dyer knew the Bishop and Stack case had given me a good deal of pain and he was trying to do me a favour. Or perhaps his instincts told him that the initial enquiry had been a bit cursory and, perhaps, unreliable.
Anyway, I hadn't resisted much so I'd left, briefly calling in to my station in Kenilworth, then home to collect a few things, arriving at Grovestock House before lunch. On the way I'd re-read the file and acquainted myself with the facts as they'd been recorded so far. It was unfortunate that a few days had passed and allowed the trail to cool but it couldn't be avoided in the circumstances.
The local constable, Sawyer, had been pretty thorough in his approach. He'd been telephoned about the deaths around midday, cycled over as soon as he could, arriving an hour later. By then, the body of the fiancée had been discovered; she had shot herself with the dead man's revolver. First thing he did was make sure the gates were guarded. Nothing to be done for Tom Barleigh, his mother or girlfriend, so he set about photographing the scenes and interviewing witnesses, several of whom told Sawyer that Lady Isabelle had been increasingly set against the marriage, though none knew why. He'd written his notes up swiftly and gone through them with Gleeson, who hadn't bothered to interview anyone himself. Just like him, idle bugger.
The local doctor decided there was no need for a post-mortem and Sawyer presented his evidence to the inquest, which made the same conclusions he had. It was starting to bother me that everything had been despatched so quickly, so neatly.
I had done my research on the family prior to my visit. Grovestock House had been built sometime in the middle of the eighteenth century when Thomas Barleigh had wanted a new home to reflect his recently acquired status as a Privy Councillor to King George III. He'd been appointed following his generous support to the monarch in a series of conflicts with France, particularly in the Americas. Thomas was no soldier though, he was one of the new breed of industrialists, building up a fortune manufacturing muskets and pistols. Items put to good use by George's army in its attempts to suppress uprisings across the empire.
Thomas's grandson, having become a regular drinking partner to the Prince Regent, was raised to a baronetcy when the prince ascended the throne in the early eighteen hundreds and the house had been refurbished and extended to celebrate. Shifts in political allegiance over the next two centuries meant Sir Arthur Barleigh, the present incumbent, no longer had the power and influence his ancestors enjoyed. Nevertheless, the family was still important in the social merry-go-round of the county, hence the newspapers' interest and the Chief Constable's newly-found desire to make sure the job was done thoroughly.
A man in his late forties swung open the door. He wore a dark jacket and pin-stripe trousers, and his hair was greying at the temples. He gave off the unmistakeable smell of brilliantine as he looked at me enquiringly over the rim of his glasses. He was beyond question a butler and I remembered from Sawyer's report that his name was Jervis.
'Inspector James Given, Warwickshire Constabulary. I believe you've been expecting me.'
'We have, sir. Sir Arthur asked me to prepare a room for you so I'll take you up if you'll follow me.'
'There'll be no need, thank you, Mr Jervis, I won't be staying here tonight. I've already booked a room in the village. However, you can look after my overnight bag for now if it's not too much trouble.'
He took it and asked if there was anything else I needed. I told him I'd like to have a look at where the deaths took place.
'Very good, sir, would you like me to accompany you?'
'No thank you, that won't be necessary, just show me where Lady Isabelle and her son died.'
He pointed to the left of the house. 'The shootings took place down there, sir, on the side lawn.'
I let the butler go about his business, instructing him to tell everyone in the house I'd arrived and would be conducting interviews later in the day. I didn't think for a moment I'd get through many but it would do no harm to put them under a little pressure.
Before heading to the side of the house I turned on the step and surveyed the grounds. It wasn't a grand estate by any means and I suspected it had once been much grander. Perhaps a profligate ancestor had squandered too much of the family fortune on high living. It still remained a couple of hundred acres at least, judging by the distance from the gate to the main house. A lawn, directly in front of the main door, was circled by the drive and bordered by several dozen rose bushes, whose scent would have been breath-taking in the height of summer. At its centre stood a magnificent cedar, fully thirty feet across and towering well above the roof top. The whole garden was walled or hedged on the two sides, with openings to further gardens, woods or fields beyond. The entire landscape sloped down to a lake sculpted into the fields below.
When I turned again and stepped back, I was able to take in the full grandeur of the house. There were two enormous bays rising to the roof and there were roughly twenty windows, all in the Georgian style. Ruefully, I compared this with the single window on each floor of my own little cottage in Kenilworth. The gravel crunched beneath my feet as I walked to the side lawn and through the gate. High walls and hedges surrounded the area and it was obvious that whatever had taken place here wouldn't have been seen from anywhere in front of the building. Not unless someone was close enough to the gate. I noted there was no other access, or exit, apart from a side door into the house. The side walls were of much plainer red-brick and of a much earlier period, the grand frontage being merely a façade. I wondered what else in this case might be not what it seemed on the surface.
'Good afternoon, constable.' I looked at my notes. 'Sawyer, isn't it?'
'Yes sir, John Sawyer.'
'I've had a chance to have a look at your report but there are a few things I need to go over with you, to get them clear. Well done with the photographs, by the way, a very thorough touch.'
'Thank you, sir.'
He'd joined me at Grovestock a few minutes after my inspection of the front gardens. He was tall even for a copper, towering over me when I stood to shake his hand. His blond hair and fresh features, accompanied by the flushed cheeks when I praised his work, gave the impression of an overgrown schoolboy in a policeman's uniform.
'I had my Brownie with me, sir; I tend to put it in my saddlebag when I'm out in case I see anything interesting to photograph on the way. There's not usually much use for it in my work round here, though. Lost cats, neighbour disputes, that kind of thing. I'm lucky enough to have a darkroom at home so was able to develop them myself as well.'
Sawyer's boyish enthusiasm was naive, but clearly he was smart and not afraid of using his own initiative. I was certain it would have been the first murder he'd looked at so he'd done well to keep calm and record everything as fully as he had.
'Why did you conclude Isabelle Barleigh had shot Tom and then herself?'
'Well, it all looked very obvious on the day, sir. The two of them were lying on the ground with the weapon between them. He'd been shot in the chest from close range, toppling him out of his wheelchair, and she'd shot herself under the chin, really the only way she could have done it with a shotgun.' Sawyer turned green as he remembered. 'Also, people from the house and the estate were there in minutes, so it seemed unlikely that anyone could have carried out a murder then disappeared down the road without being noticed.'
'Not likely, or not possible?'
He now hung his head slightly at the thought he might have missed something.
'I suppose it might barely have been possible, sir, for someone who knew the place well enough.'
I asked him if there was anything else at the scene, anything at all which might suggest a different set of circumstances.
'Nothing really, sir. The only slightly odd thing was that Lady Isabelle had a scrap of paper clutched in her left hand.'
'Paper?'
'It appeared to be a bit of a letter, judging by the partial address in one corner. It turned out to be that of Miss Bamford's father, Gerald Bamford. I searched the garden thoroughly but didn't find any more of it and presumed the scrap was all she had.'
'And what about Jenny Bamford? You concluded she'd committed suicide as well. Did she leave a note?'
'There was no note, at least none that I found. When I was let into Tom's room by Jervis, Miss Bamford was lying on the bed with the revolver on the floor below her hand. It seems that the gun belonged to Tom Barleigh and everyone knew he kept it in a drawer in his bedroom. She had a single bullet hole to the side of her head and the pillow was covered with blood, so it was clear she'd died where she lay.'
He looked queasy again so I let him settle before continuing.
'Did you interview everyone when you arrived?'
'I took statements from everyone there. You'll know from the file that Billy Sharp and Tom Barleigh's nurse, Trudi Collinge, disappeared before I could interview them. I would have liked to speak to Jenny's family as well, to see if she'd been unhappy and so on.'
'But you didn't manage it?'
'No, it wasn't possible. Parents are divorced, she's in Australia and remarried. We sent a telegram to the local police so they could let her know her daughter was dead. Her father showed up briefly at the funeral but then left part way through before I could speak to him. I asked one of the other lads to call round to see him but apparently the house looks like it's been empty for a few days.'
'What about Sir Arthur? Did you get a full statement out of him?'
'That wasn't easy, sir, but I did get something. I was told by the butler that Sir Arthur had some urgent business which he needed to attend to and it would be really helpful if I could interview one or two of the others first. It made no real difference to me so I just got on with seeing everyone else that I could. When I'd finished, Jervis came to fetch me to go to Sir Arthur's study. He seemed a bit surprised to see me still there but did agree to be interviewed. Apart from telling me where he was when each of the shootings happened he wasn't able to add anything to what everyone else had said.'
'Did he suggest any reason why his wife might have done such a thing?'
'He said he was at a complete loss about it. To be honest, he seemed … overcome, if you understand me. Like he didn't really know what was happening. I thought I'd best leave it alone until I was told to do otherwise by someone more senior. I did telephone next day in case he was feeling any better but was told he'd been given sedatives and was sleeping.'
'Tell me about him. How is it that he's "Sir" Arthur?'
'He's a baronet and inherited the title. It's come down through about eight generations until he took it over when his father died at the end of the Great War. That was about the same time he married Lady Isabelle.'
'"Lady" Isabelle? She was a proper toff then, was she?'
'No, I don't think so. I'd be fairly sure she picked up the title from him. I don't know much about her but I've an idea she was just a local girl who got lucky.' Sawyer then came up with a question he must have been dying to ask since we met. 'Excuse me, Inspector, and I know it's perhaps none of my business, but why has it taken so long for someone to follow up the case? I mean, I know Inspector Gleeson went through the file but he didn't even come down to the house, just met me at the station. Said there was no need. But now you've turned up.'
'You're right, it would have been much better if I'd have been able to make it straight away but I wasn't available. On the day I was still tied up with the Peter Bishop hanging.'
'I read about that case. Didn't they kick a Jewish butcher to death in Birmingham?'
'They did. Bishop and Stack scarpered but I got lucky when they were heard bragging about it in a pub. They were both members of a Blackshirt gang, followers of that idiot Mosley, and had been planning the attack for weeks. Anyway, by the time it was over, you and Inspector Gleeson had finished the investigation.'
I told him Gleeson had forwarded the file to the Chief Constable with a recommendation for no further action.
'If you hadn't made such a convincing case for a murder and two suicides it might have been chased up sooner.'
'I'm sorry, sir, it all seemed so clear cut.'
'Don't worry about it, you did a good job. I can think of half a dozen officers, with much more experience than you, who would have come to the same conclusion. It was only after the inquest, when the big boss started getting pressure from the newspapers, that he asked Superintendent Dyer to have another look.'
'And you think there's more to the case than meets the eye, sir?'
'I don't know, but it's all a bit too neat and tidy for my liking. Let's just sniff around a bit longer and see what turns up. If it's nothing more than me being overly cautious, then you'll gain more respect from your colleagues and I'll have had a nice day or two in the Warwickshire countryside.'
Sawyer filled me in on the other interviews he'd carried out with the household staff and the gardeners. No-one had witnessed anything and all except the butler were able to account for where they were when the shootings happened. Sawyer had also spoken to a friend of Tom's, Alan Haleson, who was staying at Grovestock House and would have been his best man at the forthcoming wedding. Haleson had reported his version of the events but was on his own when each of the shootings took place.
'So what would you like me to do now, Inspector?'
'It's imperative we find the young gardener, Tom's nurse, and Jenny Bamford's father. And I've to get a full interview with Sir Arthur. You follow up the first three as best you can. I'm going to finish reading the file and then go back to the bereaved husband and a few of his staff. Let's see how we get on and we'll meet up again tomorrow.'
I found Jervis in his pantry, a small room between the kitchen and main part of the house. This was the nerve centre of his fiefdom. There was all the paraphernalia associated with ensuring the life of his master was well run and comfortable: the wine coolers, ice buckets, silver trays, cutlery boxes and so on. The room also contained a small table and two chairs; an old one seemingly from the kitchen, and a slightly more welcoming one placed in the corner. Jervis had an open ledger on the table when I popped my head round the door. A number of others were neatly stacked on the shelf above him.
'You look busy, Mr Jervis.'
'Not really, Inspector, just catching up on some paperwork.' He smiled sorrowfully as he got up to beckon me inside. 'Much less to do now with fewer people in the house. We were expecting this to be such a happy time. How can I help you?'
The man looked upset and seemed to be putting on a brave face for the sake of the other servants. He must have felt the tragedy as heavily as everyone else.
'I need to see Sir Arthur. Could you go up and tell him I'm here and want to interview him?'
'I'm afraid I can't, sir, he's not here.'
'Not here? A moment ago you said he was in his room most of the time. I thought I asked you to tell everyone I'd like to see them today.'
'I'm sorry, sir, I should have said when you arrived. He decided this morning he needed to get out of the house so left quite early for a ride.'
'Does he often do this?'
'Before all of this happened he'd go out several times a week and could be away for hours. On more than one occasion he'd travel as far as Banbury and back in the day; a good three hours' journey in each direction. I believe he thought you wouldn't be here until the evening. I couldn't say when he'll come home but I'll let him know you want to see him if you're still here. He's said we need to give the police as much assistance as we can and I should put the house at your disposal if you need somewhere to stay or work.'
I was annoyed at Sir Arthur's absence but all I could do was interview the butler and hope his employer would return soon. I thanked Jervis for the offer of a room to work in, took a seat and checked some of the details from the file with him.
'So where were you at the time of the first shootings, Mr Jervis?'
'It's as I told the Constable, sir. I'd just entered the lift upstairs and pressed the button to come down. I wouldn't normally use it, of course; the servants aren't really allowed. We're supposed to use the side stairs, but I was bringing down a large basket of bed linen that needed to be aired for the guests due to arrive.'
'Surely that isn't your job?'
'It's usually one of the maid's jobs to fetch the linen but there was so much it needed someone stronger. I thought the first bang was something to do with the lift machinery starting up. Then, when I'd travelled a few more feet, I heard the second bang and was certain it was a gunshot fairly close by, much closer to the house than would be usual. I got out as soon as the lift arrived on the ground floor then saw Miss Parry at the bottom of the stairs, about to run out of the front door.'
There was a silence.
'And who is Miss Parry?'
I think I knew the answer before he gave it. It would be too much of a coincidence for it not to be her.
'Miss Elizabeth Parry is the housekeeper, Inspector.'
I hadn't expected to hear her name ever again. It made my stomach churn and my head spin.
'So what did you do?'
'I knew something must be wrong so I joined her. Mr Haleson, Mr Barleigh's friend, also appeared at that point and came with us. I wasn't sure which direction to go but she said it was on the side lawn so we went that way. I shouted for her to stay behind me in case there was still any danger.'
'That was very brave of you, Mr Jervis.'
'I don't know about brave, sir; I was doing my duty.'
I went on to question him about what he'd seen when he arrived at the side lawn and he repeated what he'd told Sawyer. He also confirmed he'd gone inside to find Sir Arthur straight after the bodies were discovered. He had asked Elizabeth Parry to tell the rest of the staff what had happened.
'You let Miss Bamford into the house when she returned?'
'I did.'
'And you told her what had happened?'
'Oh no, Inspector. I was under strict instructions from Sir Arthur not to say anything, that I should simply inform her he wanted to see her upstairs in his room.'
Jenny left him in the hallway and climbed the main stairs to the upper landing. Shortly afterwards he was making his way to the kitchen to join the other staff when he heard a shot from upstairs. He ran back through the house and up the central staircase then searched from room to room to try to find where the shot had been fired. He arrived at Tom Barleigh's room last of all and saw Sir Arthur and Alan Haleson standing over Jenny Bamford. A revolver was on the floor beside the bed.
His voice caught in his throat when he recalled seeing the dead young woman, though his face gave nothing away. I couldn't help wondering if he was perhaps fonder of her than of the others. There was nothing else he could tell me so I asked him to contact me straight away if he thought of anything important he'd missed. I didn't really expect he would. Jervis had a butler's loyalty so family secrets would remain secret.
Sir Arthur still hadn't returned when I'd finished with the butler. I decided to move on to the maid who had witnessed the first two deaths on the side lawn. I asked for her to be sent to the room which had now been put at my disposal, the "morning room". I'd spent several years at sea, often with four to a cabin, and it amused me to think the aristocracy have special rooms they only utilise at particular times of the day. I even think my own little cottage is spacious, having the luxury of an extra bedroom for me to use as an office.
Marion Clark stood before me, looking nervous, and confirmed she was upper housemaid to Sir Arthur and Lady Isabelle Barleigh. She'd been in their employment for about two years. There was something about the girl's face that hinted at a touch of stupidity and though she was twenty years old or thereabouts, she looked much younger.
'You were interviewed by Constable Sawyer on Tuesday, weren't you, Marion?'
'Yes sir, I was, sir.'
'Well, I'm a detective and an Inspector, so much more senior than he is and there can be no lies from you. Do you understand me, Marion?'
If the girl had been nervous before, she now looked like she'd faint away any moment, her eyes darting this way and that, and her hands wringing her apron front.
'I understand, sir. I wouldn't lie.'
I told her to take a seat.
'You've known the family for a good while now, so what do you make of them?'
She appeared to struggle for words.
'They've always treated me well, sir.'
'I wasn't asking how they treat you, Marion. Were Sir Arthur and Lady Isabelle a happy couple?'
'That wouldn't be for me to say, Inspector Given, I'm not one for telling tales.'
'But that's exactly what I want you to do, Marion. In fact, I'm actually expecting you to tell tales. We have three deaths here and I dearly want to get to the truth of what happened. But we'll perhaps come back to what you think of the family a little later. For now you can tell me what you saw on Tuesday.'
'Tuesday? Well, sir, Tuesday is my day for cleaning Mr Tom's room. His nurse, Miss Collinge, sees to it most days but once or twice a week the other staff take a turn and on Tuesday it's me. I start with the beds, then brush the carpet and finish up by tidying his desk.'
For some reason this turned on the waterworks and we had to pause for a minute or two.
'I'm sorry sir, it's just the thought of it… Mr Tom is — was — very fussy, you know and didn't want us messing about with his papers, only to put them neatly into piles where he left them. I was at the desk, and I could see out of the window and across the side lawn. It was such a lovely day I couldn't stop myself from looking out for a few minutes. I wasn't slacking sir, honest I wasn't. If only it had been raining then none of this might have come about. Mr Tom wouldn't have been outside and his mother wouldn't…' She sniffled and I was certain she'd open the sluice gates again.
'Hold on, Marion, let's stay with what you saw out of the window.'
There was more sniffling and a blow of her nose before we could resume.
'As I said, sir, I was by the desk, and looking out of the window at Mr Barleigh out on the lawn. He sat in his wheelchair reading most days when the weather was good enough. Always very fond of his books he was, sir, even before his accident.'
'You were here before that happened?'
'Oh yes, sir, though I hadn't been here long then, a great shock to us all it was, especially to Lady Isabelle. She seemed to worry about him all the time after he came back from the hospital.' The maid looked like she was going to tell me more but caught herself and returned to my earlier question. 'Sorry, sir, I was telling you what I saw. Suddenly the blackbirds pecking for worms took off and Lady Isabelle came into view, from the front gate I think, though I couldn't be sure. I straight away thought something must be wrong, 'cos her ladyship seemed to be shouting and waving her hand about like she's half mad.'
'What about the other hand?'
'The other hand? Well, I think she must have had the shotgun under her arm because she was holding something close to her side.'
'Did you see the shotgun, Marion?'
'No, I didn't. But that's what it must have been, mustn't it, otherwise where would she have got it from?'
'That is something quite else. You remember what I said, and tell me what you actually saw, no more and no less. Understand? So what happened next?'
'Mr Tom looked up at her — I didn't see no more, sir, because Miss Parry, the housekeeper, had been watching me from inside the doorway and shouted for me to get on with my work.'
'So you didn't see the actual shooting take place?'
'No sir, can't say as I did. I heard the shotgun go off right outside, and Miss Parry and I both looked at each other but before we can do or say anything, there's a second shot. We were then so terrified, sir, honest sir. Miss Parry tells me to go back up to my room, quick as I can, and she heads off down the stairs to look for Mr Jervis. I…' She stopped, blushing.
'What is it, Marion? Remember, this is a police matter, we need the complete truth.'
'Yes, sir, Mr … Inspector. Well … truth is I didn't go straight back upstairs. I crept back across the bedroom and peeked out of the window. It was only for a second, 'cos I couldn't face it no longer, but what I saw was the two of them, Mr Tom and his mother, lying on the ground with the shotgun beside Lady Isabelle.' She stared sightlessly ahead, remembering. 'There was just the wheels of his chair going round and round…'
'Did you see anyone else there, Marion?'
'No, sir. All I could do was stare at those bodies. The blood and the stillness all around. There was no-one else there that I saw.'
The maid seemed transfixed by the memory and I had to prompt her to continue.
'It's all I know really, sir. I ran up to my room and stayed there until Miss Parry called all the staff together to tell them what had happened.' Suddenly she looked at me, her eyes focusing. 'Why'd she do it, sir? They were so close, the two of them.'
'Well, that's what I'm here to find out. Where were you when the third shooting occurred, that of Miss Bamford?'
'Just where I said, sir. Miss Parry had called all the servants together in the kitchen to tell them what had happened. She was shaking like a leaf and said there'd been a terrible accident. A minute after she told us Mr Jervis had phoned the police there was another shot, from upstairs.'
'Who was in the kitchen at the time, Marion?'
'Well, sir, apart from me and Miss Parry, there was Mrs Veasey, she's the cook, Peggy Shaw, the other maid, and Mr Perkins, the head gardener.'
'So there were five of you, is that correct?'
Clark slowly counted the names in her head and on her fingers to confirm the number. 'Yes, sir, that's it.'
'Mr Jervis and Nurse Collinge weren't there with you?'
'No, sir, they weren't. Mr Jervis had been waiting for Miss Bamford to come back and someone said Nurse Collinge was too upset to come down. She was very fond of Mr Barleigh, you know.'
'Had you seen Jenny Bamford arrive back at the house?'
'I hadn't, sir. As I told you, I went to my room like Miss Parry had told me and stayed there until she called for us to the kitchen. I don't know when Miss Bamford came back, sir.'
I spent another few minutes clarifying some of the points she'd made and I underlined a couple of items in my notebook, then told her she could go. There was still something niggling me about what she'd seen that didn't seem right.
Following the publication of Deborah Swift's extraordinary wartime sagas – PAST ENCOUNTERS and THE OCCUPATION – editorial director Amy Durant has signed four more of her books.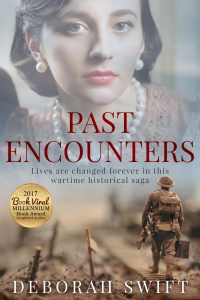 In Deborah's words:
"I'm really thrilled to have signed with Sapere Books for my third WW2 novel, THE LIFELINE, in which a teacher flees Nazi-occupied Norway and escapes to Scotland on a small fishing boat, in an operation known as The Shetland Bus.
"Not only that, but I've signed with Sapere for three more historical novels set further back in time. The first, THE POISON KEEPER tells the story of Giulia Tofana, the woman who, according to legend, poisoned six hundred men in 17th Century Italy. The deadly poison Aqua Tofana bears her name. Italy in the 17th Century is a fascinating brew of baroque religion, art and culture, and the legacy of the 'Camorra,' the 17th Century Mafia. THE POISON KEEPER is set in Naples under the smoking shadow of Mount Vesuvius. There will be two further books in the Italian series; the other two books will be set in Venice and Rome.
"I was delighted to be offered a home for four new books (four books!) with Sapere, as not only do they offer very good royalty rates to authors, but they have a really strong, supportive author community."
Amy commented: "Deborah is a wonderful storyteller, and I am extremely happy she has chosen to continue partnering with Sapere Books for her next four novels. Fans of her first two Second World War novels won't have to wait much longer for her third wartime-era book; THE LIFELINE will be available to preorder soon."
Click here to order PAST ENCOUNTERS
Click here to order THE OCCUPATION
Sign up to Deborah's newsletter to stay up to date with her book news and latest releases.
Stephen Taylor is the author of A CANOPY OF STARS, a thrilling historical 19th century saga stretching from the legal courts of Georgian London to the Jewish ghetto in Frankfurt.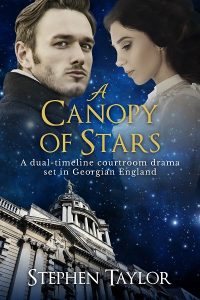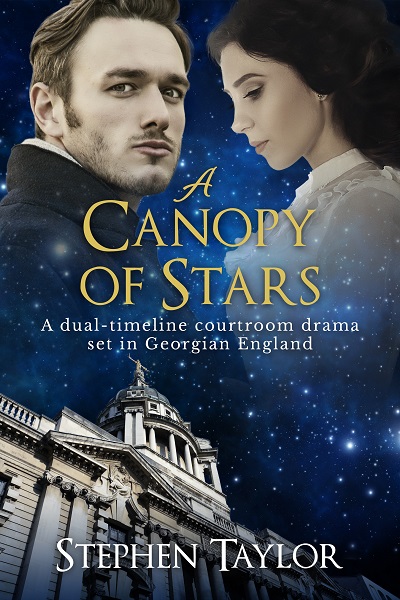 Hi Stephen! Welcome to the Sapere Books blog. Could you tell us a bit about what first got you into writing?
My addiction has been with me for over twenty years now. When I was younger, if somebody told me a good joke, when I retold it it was twice as long, embellished, the story enhanced, the characters fleshed out. With me, it was never just about and Englishmen, an Irishman, and a Scotsman. It was an Englishman in a bowler hat with a monocle, an Irishman in a donkey jacket with a pint of Guinness and a Scotsman in a kilt with a set of bagpipes (and yes I know that this is stereotypical).
Tell us about where you write and your writing habits.
I started by writing during my lunchtime at work, but now I write in my home office. I keep a working week, Monday to Friday and write for two and a half hours a day. I seem to need that discipline.
What part of the writing process do you find most difficult?
Probably research: it's a double edged sword — part good, part tiresome. The rewrites are also tricky, as you can edit forever, endlessly trying to improve what you have written. I aim to stop after five rewrites.
Do your characters ever seem to control their own storyline?
The received wisdom is that you determine your storyline and not let your characters deviate from that. However, after I develop my characters, they tell me where they want to go, what they want to do. I follow them, and my stories are character led. I still have a structure in my mind — A to B, but the characters say how I get there.
Do you find it hard to know when to end a story?
Not usually. I have a prompt to myself that sits just below the line I am typing. It reminds me to keep some control over the characters.  It says: INTRIGUE — CONFLICT — CLIMAX — RESOLUTION. i.e:
Open with a big question or hook: INTRIGUE. Then you have the problems your hero is up against: CONFLICT. This builds to a CLIMAX. This is followed by the RESOLUTION.
What is your favourite book?
If you ask me this next week, you may get a different answer. I would say my favourite book is To Kill a Mockingbird by Harper Lee. My favourite character is Uriah Heep, from David Copperfield. Dickens' image of him is wonderfully unpleasant — he's so slimy.
What book do you wish you had written?
Anything by Norman Mailer. As a writer, he is so far above me. He's much more than a storyteller.
Tell us something surprising about you.
I was brought up in Manchester, but I was born in Yorkshire. My mother traveled back to Yorkshire so that my birth there would give me residential status to play cricket for Yorkshire — nobody ever believes that, but I promise that it's true. Unfortunately, it was a feat that I never achieved, the White Rose County being unappreciative of my cricketing skills.
Preorder A CANOPY OF STARS here!
Sign up to our newsletter for deals and new releases.
We recently had a digital meet-up with some of our authors to catch up on current projects and find out how lockdown has impacted their writing. Read on to find out more about their creative news and practices: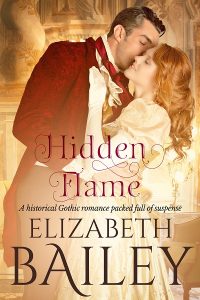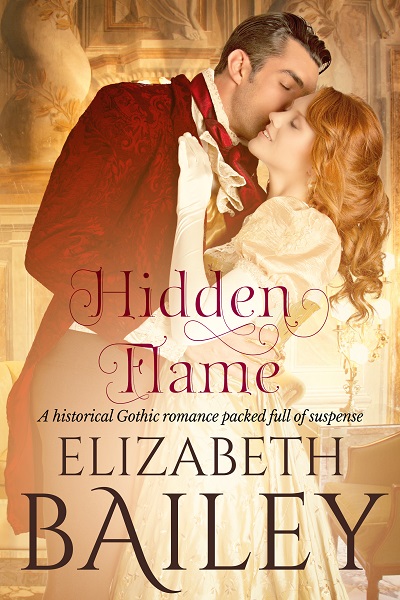 Elizabeth Bailey has published six Lady Fan Mysteries, four Brides By Chance Regency Adventures, and two more historical romances. She is working on her seventh Lady Fan book. Elizabeth has also been taking daily walks, giving digital readings, and maintaining her weekly newsletter, which is filled with writing updates and giveaways.
Graham Brack has published six Josef Slonský Investigations and two Master Mercurius Mysteries. He is working on the next books in both series. Graham finds that working on two series simultaneously helps prevent him developing writers' block with either one.
Jane Cable has published one contemporary romantic saga drawing on World War II, and her second – Endless Skies – is forthcoming. Jane has been developing a new website, editing Endless Skies, and working on a new contemporary romance novel.
Tim Chant has a Russian-Japanese naval novel forthcoming and has started the next one. He is also writing and self-publishing science-fiction and steampunk novellas.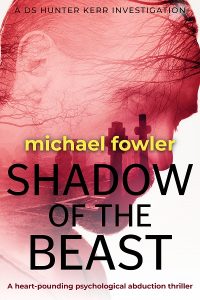 Michael Fowler has published five DS Hunter Kerr Investigations. He is currently working on a new series, developing a character who is a forensic psychologist. As part of this, Michael is researching various forensic technologies and has spoken to an expert in the field.
Justin Fox has two nautical novels forthcoming with Sapere Books. These are also being published in South Africa by Penguin Random House and are currently being edited.
Anthony Galvin (who also writes as Dean Carson) is the author of historical non-fiction book Death and Destruction on the Thames in London. He is working on a series of thrillers. As a mature student, Anthony has also been finishing up assignments and exams.
Sean Gibbons' gritty crime series – following taxi driver Ben Miller – will be published in 2021. He is currently writing the fourth book in the series and has just finished a World War II espionage thriller.
Gillian Jackson has published three psychological thrillers. She is now editing old and self-published work, finding ways to re-purpose old characters. Gillian is particularly interested in developing more contemporary women's fiction with a psychological element.
Natalie Kleinman has four Regency romances signed up and has written two more. She has recently made a start on a new romantic novel.
Simon Michael has published five Charles Holborne Legal Thrillers, and he has a sixth one lined up. Aside from writing, he has recently been busy with building work.
Ros Rendle has six romance novels forthcoming with Sapere Books, including her Strong Sisters trilogy. Ros has recently finished a new novel, and she has found her Chapter writing group (regional groups of romance writers affiliated with the Romantic Novelists Association) a great source of support.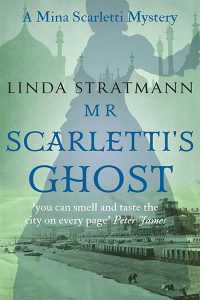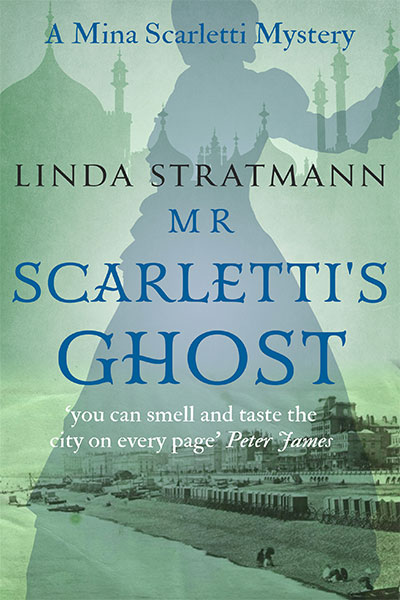 Linda Stratmann has published five Mina Scarletti Mysteries and is writing the sixth. To help with this, she has been researching Victorian spirit photography using Archive.org. Linda has also been gardening, cooking, baking, and holding digital meetings with the Crime Writers' Association, of which she is the chair.
Deborah Swift has published two romantic World War II sagas and is working on the third, which will be set in Shetland and Norway. She has been researching nautical terminology and walking a lot, which she finds is a great time to think about plot.
Alexandra Walsh has published three timeshift conspiracy thrillers; the last one, The Arbella Stuart Conspiracy, came out in May. She is now writing a Victorian dual-timeline novel and is planning to start a newsletter.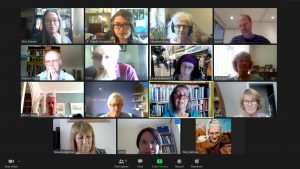 We are thrilled to announce that we have recently welcomed three brilliant new authors to our contemporary romance and historical fiction lists. We look forward to sharing their wonderful work with the world!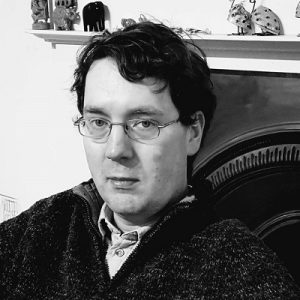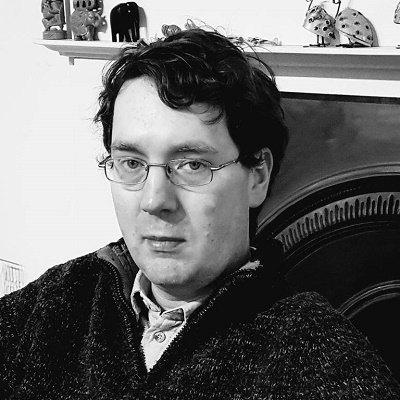 Tim Chant is working on an exciting historical naval thriller series. The first instalment – THE STRAITS OF TSUSHIMA – is set in 1905 during the Russo-Japanese war and follows the daring exploits of Marcus Baxter, a British Royal Navy officer turned spy.
THE STRAITS OF TSUSHIMA is due out in 2021.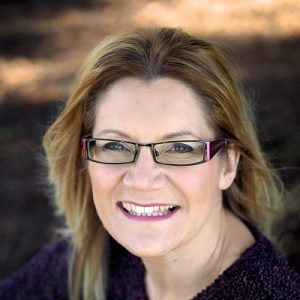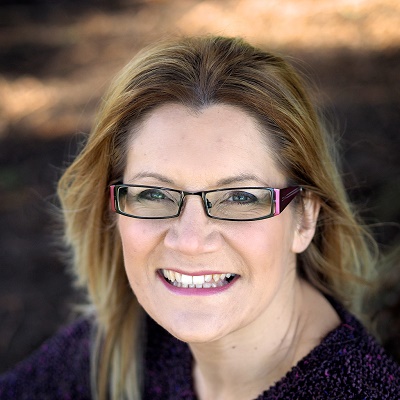 Teresa F Morgan is working on a fabulous three-book contemporary romance series. Set in Cornwall, her novels have a strong sense of place and a unique sunny charm. Her first book, COCKTAILS AT KITTIWAKE COVE, sees ambitious restauranteur Rhianna Price arrive in the area looking for a fresh start. But when she runs into her holiday fling, Rhianna's focus is put to the test…
COCKTAILS AT KITTIWAKE COVE is due out in 2021.
Tanya Jean Russell writes heart-warming romantic fiction. Her first book will be a seasonal novel called AN IMPERFECT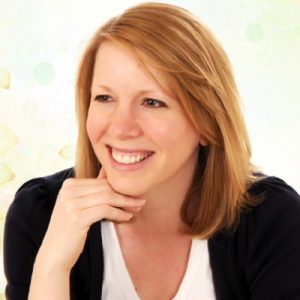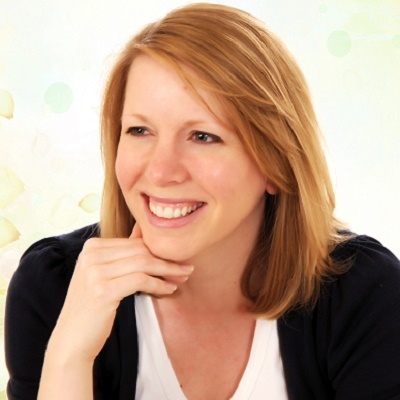 CHRISTMAS, a moving and uplifting tale that follows Maggie Green, a young accountant who returns to her hometown and is forced to face her first love.
AN IMPERFECT CHRISTMAS will be published in late 2020.