Laura Pennington's story begins in the remote seaside hamlet of Ebton, nestled on the edge of a sandy beach in the shelter of the dramatic vertical, grassy headland of Stangcliffe.
Ebton does not really exist, but the well known Saltburn- by- the-Sea, with its Victorian buildings, pier, railway station, and funicular railway, does. My imagined Ebton is set in a quieter pre-Victorian era before the arrival of the Darlington branch rail line arrived in the 1860's that saw Saltburn boom as a resort.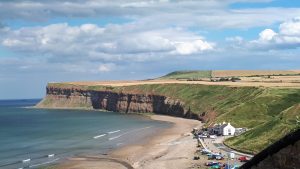 From the coastal path upon the headland of Huntcliffe (my Stangcliffe), which is part of The Cleveland Way, you can look back onto the original enclave of The Ship Inn and the fisherman's cottages. The ancient burial mound of Cat Nab stands to its side and behind this lies 52 acres of mixed ancient woodland; the Saltburn Gill Nature reserve. When Laura sets out to cross the gill, wild garlic and bluebells would carpet her path.
The history of this remote part of the North Yorkshire coast is strongly linked to smuggling. I set To Love, Honour and Obey against this historic backdrop, at a time when the whole of the stretch of coast from Scarborough, Whitby and the bay towns north to Saltburn and my home town of Redcar were involved in the notorious trade.  The expensive wars with America and France had resulted in high government taxes being placed on certain goods so whole communities helped to unlawfully land such illicit goods as: brandy, gin, tea and silk and brandy.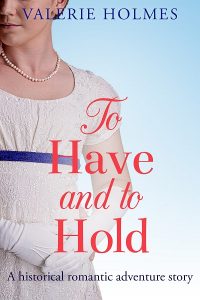 Local fishermen would take out their cobles, the local clinker-built fishing boats, to fetch the goods ashore. From there they were dispersed through the cluster of dwellings, across farmland, moors, hidden in outhouses, churches or wherever until they were to be distributed.
Smuggling has a romantic image to it, but these men could bludgeon anyone who stood in their way and so many turned a blind eye to what was happening. Besides, the money that could be made helped them to survive through harsh times.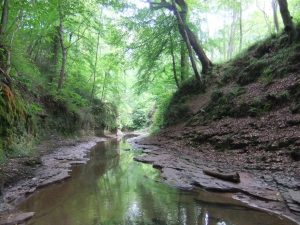 John Andrew, the 'King of Smugglers' was born in Scotland to a wealthy family and was well thought of locally, even having a position in the local militia, yet he coordinated the smuggling operation from the existing Ship Inn. My Coble Inn is based on this old smuggling base. But whereas John Andrew ruled the area from his inn, mine is just the hub for the local community.
In To Love Honour and Obey, Oberon Spratt coordinated his violent gang along the bay towns back in 1805. In To Have and To Hold, set in 1819, Obadiah Pennington who saved Ebton from Spratt's attempt to burn part of it down has, over the fifteen year gap, turned to bringing in respectable trade and is trying to attract richer folk to Ebton-by- Sea.
Laura was born the daughter of a poor fisherman, but that fisherman had fancy ideas, seized opportunity when it landed in his path, so her story begins with her being a respectable daughter of a successful business man.  From a humble home on the edge of a beach Laura now lives in a new house on the lower cliff.
In distance so near – yet a world apart.