Congratulations to Michael Fowler, whose heart-pounding thriller, The Wedding Killer, is out now!
The Wedding Killer is the second book in the Hamlet Mottrell Investigations series.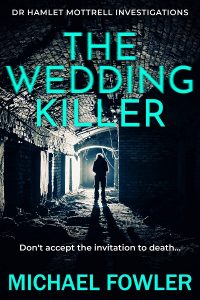 Having finally cleared his name after the brutal slaughter of his wife and unborn child, former forensic psychologist Dr Hamlet Mottrell is determined to piece his life back together.
He is given the opportunity to start a new career as a detective in a major investigation unit and is paired up with Detective Sergeant Alix Rainbow, the woman who once pursued him as the main suspect in his family's murder.
Hamlet and Alix's first case is a strange one.
A 21 year-old university student has vanished after a night out in Sheffield. And before she went missing, she received a wedding invitation from a stranger.
The pair soon discover that more female students are missing, each of them receiving the mysterious invitation.
Who is this shadowy stalker? Will the young women be found safely?
Or are Hamlet and Alix on the hunt for a serial killer…?