Congratulations to J. C. Briggs, whose captivating historical adventure, The Waxwork Man, is out now!
The Waxwork Man is the eleventh book in the Charles Dickens investigations, a traditional British detective series set in Victorian London.
London, 1851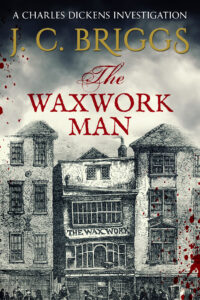 While visiting Madame Tussaud's Chamber of Horrors, Charles Dickens crosses paths with Sir Fabian Quarterman, a judge famed for his ruthlessness in court.
Dickens reluctantly accepts an invitation to accompany Quarterman back to his mansion, where he claims to keep a gallery of waxworks that surpass Madame Tussaud's. To his dismay, Dickens finds that they are all effigies of women who were sentenced to death or who died in brutal circumstances.
The day after Dickens's visit, Quarterman is found dead in his gallery, his face frozen in an expression of terror. When Dickens views the scene with Superintendent Sam Jones of Bow Street, he believes that one of the waxwork women is missing.
Though the cause of Quarterman's death is assumed to be apoplexy, Dickens is convinced that there are more sinister forces at work. And when waxwork women begin mysteriously appearing around London and two more men are found dead in suspicious circumstances, Dickens and Jones must once again embark on a search for a deranged criminal…
What happened to the missing waxwork? Did someone seek revenge on the judge?
And can Dickens unearth the secrets of the dead…?