Congratulations to Elizabeth Bailey, whose brilliantly written historical mystery, The Unwanted Corpse, is published today! The Unwanted Corpse is the eighth book in the Lady Fan Mystery series.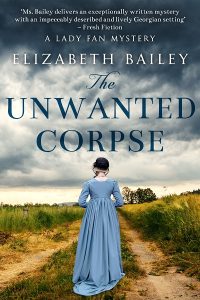 1794, England
When a body is unceremoniously dumped outside her home, Lady Ottilia Fanshawe is once more drawn into a murder case.
Ottilia is recovering from the birth of her first child and her husband, Lord Francis Fanshawe, is worried that she has finally taken on more than she can handle.
But Ottilia will not be diverted. Motherhood has always been her deepest desire, but solving crimes is her passion. And she is determined to balance both.
No one in her household recognises the dead man, and yet a note was left with Lady Fan's name on it. Clearly, someone wants her to investigate the crime, but why?