Sapere Books are proud to be sponsoring the Romantic Novelists' Association's Popular Fiction Award. The 2021 shortlist featured gorgeous beaches, family reconciliations, magical Christmas romances and more.
On Monday night, the wonderful Julie Houston was announced as this year's winner at the Romantic Novelists' Association's digital awards ceremony.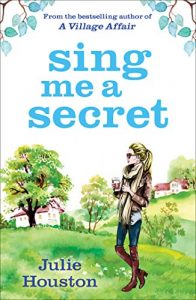 Her winning novel, Sing Me a Secret, is a sharp and witty tale that follows the estranged Sutherland sisters, who each followed very different callings in life. Popstar Lexia is returning to her hometown, where she must face memories that she would rather keep buried. Juno, now the village doctor, juggles her career with the demands of her children and her role in the local production of Jesus Christ Superstar. Pandora devotes her time to village committees and taking charge of the local choir, and Ariadne is a dissatisfied schoolteacher. As the village musical draws them together, family secrets and past grievances are unearthed, and the sisters must summon the will to put aside their differences and move forward…
We would like to send a huge congratulations to Julie, and to all of the fantastic authors who were shortlisted this year.