As a writer of historical fiction, I'm obsessed with old letters which form my link to the past. Do you have a favourite historical letter? Here's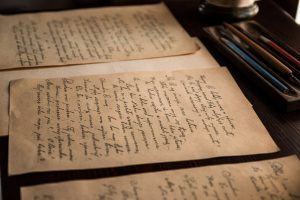 mine. One of the most chilling letters from history, and the saddest, is the letter from Mary Queen of Scots to her sister Elizabeth I when she heard she had ordered her to be executed.
Mary's letter contains a plea for her remains to be taken back to France after her death, as well as a warning that would haunt Elizabeth for the rest of her life:
I will not accuse any person, but sincerely pardon every one, as I desire others, and, above all, God, to pardon me. And since I know that your heart, more than that of any other, ought to be touched by the honour or dishonour of your own blood, and of a Queen, the daughter of a king, I require you, Madam, for the sake of Jesus, that after my enemies have satisfied their black thirst for my innocent blood, you will permit my poor disconsolate servants to remove my corpse, that it may be buried in holy ground, with my ancestors in France, especially the late Queen my mother, since in Scotland the remains of the Kings my predecessors have been outraged, and the churches torn down and profaned…

…Accuse me not of presumption if, leaving this world and preparing myself for a better, I remind you will one day to give account of your charge, in like manner as those who preceded you in it, and that my blood and the misery of my country will be remembered, wherefore from the earliest dawn of your comprehension we ought to dispose our minds to make things temporal yield to those of eternity.

Your sister and cousin wrongfully a prisoner,

Marie R
I can only imagine the guilt that Elizabeth must have felt upon receipt of this, and her fear that she would never be forgiven for the blood on her hands.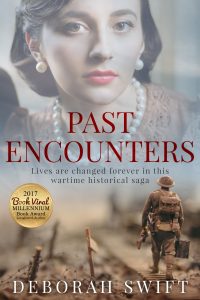 Letters were massively important during wartime, and especially for Prisoners of War. In WW2, Rhoda and Peter — the two main characters in my book Past Encounters — rely on their letters to each other to form a lifeline. But for people separated by the conflict, the long-awaited letter can often get lost in the wartime confusion, making such links precarious and precious.
With so much of our communication virtual these days, it is sad that so few letters might be preserved to give future historians insight into the minds and hearts of the past. When researching Past Encounters, I relied on letters and memoirs to fill in Peter's story of his POW years, and to conjure up his worst journey: the Death March through Poland and Germany at the end of the war. There is an excellent film about the untold story of the gruelling Long March to Freedom featured in Past Encounters here.
As well as the fate of Allied POWs, Past Encounters also features the wartime filming of the classic British romantic blockbuster Brief Encounter directed by Sir David Lean CBE, who was responsible for large-scale epics such as The Bridge Over the River Kwai, Lawrence of Arabia and Doctor Zhivago. Celia Johnson's letters home from the filming provided a brilliant insight into night-time on a freezing railway station in January and February 1945:
'people are most awfully nice and even the station master, a large man in stern bowler hat, renowned for his grumpiness, raises his stern hat unceasingly to me, and I am continually being besought to sit by the fire in his office.'
Which letters have moved you?