Natalie Kleinman is the author of The Reluctant Bride, a glittering Regency romance with a strong-minded heroine at its heart.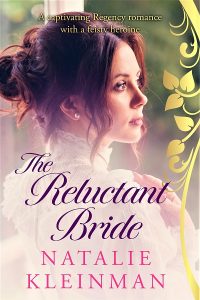 I spent the first few years of my career writing contemporary romantic fiction, firstly short stories and then novels, until the burning desire I'd had for so long pushed itself to the forefront. I wanted to write a historical novel set in England's glorious Regency period. Maybe I couldn't, but I had to try. I'd previously looked upon it as a presumption on my part even to consider it, bearing in mind my love for the works of Georgette Heyer and Jane Austen. But I wasn't trying to emulate them. I was trying to make my own contribution the genre that had given me so many hours of joy over decades. And so my first Regency novel, The Reluctant Bride, was born, to be followed by another, and then another. They'll be coming soon, so watch this space.
Charlotte Willoughby — the heroine of The Reluctant Bride — is a young woman of her time. Born into the aristocracy, she is as much tethered by her status as privileged. When she is forced by her father to marry the Earl of Cranleigh, purely to satisfy his own interests, she has no choice but to comply. Six weeks later, fate takes a hand when her husband is killed in a riding accident. Free of a tyrannical parent and a loveless marriage, Charlotte begins to enjoy her newly found independence. Gresham, the earl's cousin, undertakes to guard her from fortune hunters and, while she finds him arrogant and aloof, she cannot deny the security his protection affords her, particularly with regard to the unwelcome attentions of Lord Roxburgh. Acutely aware of the tension between the two men, Charlotte learns they have a shared history, the animosity of which still lies between them. With the coldness of one and the over-heatedness of the other, will she be able to find her own path to happiness?
Writing The Reluctant Bride, I settled into a deeply satisfying place where I was able to weave a tale while indulging in my love of the setting. I could see the magnificent houses and the glorious balls, but beneath all ran the story of a young woman, struggling with adversity, triumphing over it and finding her own way. I hope you enjoy it.
Click here to pre-order The Reluctant Bride