Congratulations to Abraham Kawa, whose heart-pounding murder mystery, The Red Death, is published today!
The Red Death is the second police procedural crime novel in the Bates and Briant Investigations series — gritty, hard-boiled thrillers set in 1960s and 1970s London and Europe.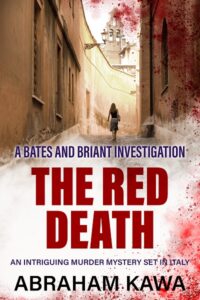 Rome, 1970
After a disturbing murder case left DI Chris Bates' mental health shattered, he spent time recovering in an asylum before being released to a halfway house.
He receives a photo of police photographer Helen Briant in Rome along with a message to join him there, with a hint she's in trouble. With nothing tying him to home, Chris decides to go.
In Rome, he discovers Helen in a desperate situation. She is caught in a web of blackmail, threats and violence.
And when some of those threatening her are murdered, Helen is hauled in for questioning.
Keen to clear Helen's name, Chris is determined to get to the bottom of the mystery. But the further he delves into it, the more complicated it becomes.
And when more victims are found, the stakes become even higher…