Congratulations to Stephen Taylor, whose absorbing dual-timeline mystery, The Mystery of Rufford Abbey, is out now!
When historian Toby Wyatt receives a collection of chronicles written by Brother Roger of Hathern — a medieval monk who lived at Rufford Abbey — he is plunged into a nine-hundred-year-old mystery.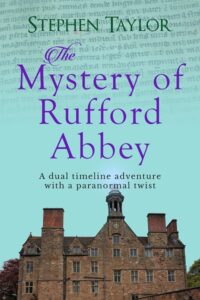 The monk tells the story of Margaret of Wellow, a fifteen-year-old girl who was accused of witchcraft after experiencing strange visions. After careful reading, Toby realises that Margaret seems to have been able to see into the future.
Back in the present day, a woman vanishes without a trace and the police are drawing a blank. Toby's research takes a bizarre turn when he discovers a link between the woman's disappearance and Margaret's visions.
Faced with a seemingly impossible solution to the mystery, Toby begins to question his instincts. And as the past collides with the present, he must decide whether he can put his faith in a girl who has been dead for nine-hundred years…