Congratulations to Graham Brack, whose fabulous historical mystery, The Lying Dutchman, is published today!
The Lying Dutchman is the sixth book in the Master Mercurius series: atmospheric crime thrillers set in seventeenth-century Europe.
1685, The Netherlands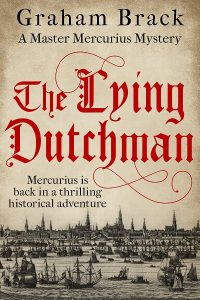 Master Mercurius has once again been summoned to The Hague by Stadhouder William of Orange. And a letter from William is never good news.
King Charles II of England has died and William, with his wife Mary, is now next in line to the throne once the current king, James II dies.
But Charles II's illegitimate son, the Duke of Monmouth, has put a spanner in the works.
Monmouth is being encouraged to stage a rebellion and take the English throne. William needs to stop him so as not to jeopardise his own claim, but he also wants to keep Monmouth as an ally.
So, Mercurius is ordered to travel once again to England, and this time on an even more dangerous mission. He must plant a letter containing Monmouth's invasion plans at court so that James summons an army in response and scares Monmouth off.
The only problem is that if Mercurius is caught and tried for espionage, the punishment is certain death…