Congratulations to Adele Jordan, whose gripping espionage adventure, The Lost Highlander, is out now!
The Lost Highlander is the fourth book in the Kit Scarlett Tudor Mysteries Series.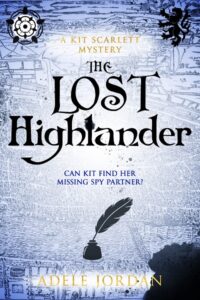 1586, London
Covert espionage agent, Kit Scarlett, is once again tasked with defending Queen Elizabeth against an assassination attempt.
With the attacks on the queen's life mounting, Kit and spymaster Sir Francis Walsingham know they need to find a firm link between these deadly plots and Mary Queen of Scots.
But Kit is also keen to investigate a more personal matter. Her espionage partner, Iohmar Blackwood, did not return from his last mission set by Walsingham and has not been seen for a year.
When Kit is given a task by Queen Elizabeth to deliver a letter to Mary Queen of Scots, a letter not to be read by officials or any political figure, she takes advantage of the opportunity search for Iomhar and find out what happened to him.
But she soon finds herself trailed by Mary Stuart's supporters and her journey becomes fraught with danger.
Can Kit complete her mission? Will she find out what happened to Iohmar?
Or will she become a victim in the fight to overthrow the queen of England…?