Congratulations to Natalie Kleinman, whose sparkling Regency romance, The Ghost of Glendale, is out now!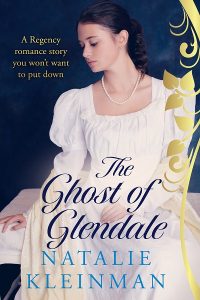 Having never been in love, twenty-four-year-old Phoebe Marcham has no interest in marriage. Fiercely independent, she spends her days helping to manage Glendale, her ancestral home — a centuries-old estate full of long-buried secrets.
While out riding, Phoebe crosses paths with Duncan Armstrong, a charming wanderer who has just returned from the Continent. Finding that they share a penchant for mystery, Phoebe shares the biggest enigma that haunts Glendale: the tortured ghost of her ancestor, Simon Marcham, who took a secret sadness to his grave.
Convinced that Simon's soul will never be at rest until they uncover his secret, Phoebe and Duncan set about unravelling the riddles that he left behind. As they delve deeper, a story of heartbreak and intrigue soon starts to emerge.
Faced with the darkness of the past, Phoebe is determined to make the most of the future. And as she and Duncan grow closer, she soon begins to wonder whether she has at last met her fate…