Congratulations to Ros Rendle, whose breath-taking dual timeline saga, The Divided Heart, is published today!
England, 1975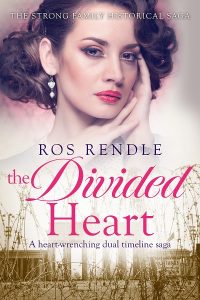 Having recently suffered heartbreak, twenty-five-year-old Heather Rawlins is ready to give up on love. Her confidence in tatters, she seeks solace in her new job at The Beeches Care Home for the Elderly.
When Heather meets Izzy Strong, the home's newest resident, she is surprised to find that they have an instant connection. And as they grow closer and Izzy begins to reveal her shocking past, Heather starts to question her own life choices…
Germany, 1927
With the Great War now a distant memory, Izzy is thrilled to be continuing her education in the beautiful city of Berlin. And when she meets the kind and handsome Garrit Shain, it seems that her happiness is complete.
But with the rise of the brutal Nazi party, ripples of unrest are once again spreading throughout Europe. And when war breaks out, the era of fragile peace comes to an end.
As a Jewish man, Garrit soon begins to fear for his life. Emboldened by her love for him, Izzy is determined to find a way to help Garrit and his family escape the horrors sweeping through Germany…