Michael Fowler's DS Hunter Kerr novel, SHADOW OF THE BEAST features a horrific serial killer. Read on to find out more about where the inspiration for the Beast of Barnwell ― the murderer in this story ― comes from.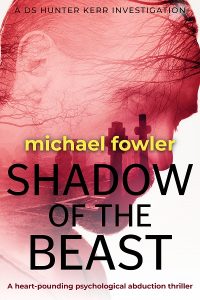 The 'Beast' is loosely based on Peter Pickering from Wombwell, near Barnsley, who was dubbed 'the Beast of Wombwell' by the press following his conviction in 1973 for the rape and murder of 14 year-old Shirley Ann Boldy, when he was jailed indefinitely.
Peter abducted Shirley Ann as she walked back to school at lunchtime, driving her to woods in the village of Barnburgh, where he tortured and raped her before stabbing her with a kitchen knife. Peter had to flee with her body in his van when he was disturbed by three men walking in the woods who tried to intervene after hearing her screams for help.
Arrested later that day, he had dumped Shirley Ann's body, cleaned his van, burned his clothes and sandpapered and bleached his shoes in a hope of hiding evidence; however, he eventually confessed, blaming his mother for the killing, telling detectives that she would never allow him to have a girlfriend, and he could see her face as he killed Shirley.
The killing of Shirley Ann came just five months after he was released from prison after a six-year jail term for sex attacks on a teenage girl in Doncaster and Scarborough.
Detectives who dealt with Pickering firmly believed that Peter was responsible for more rapes and murders and were particularly interested in him for the unsolved murders of 13 year-old Anne Dunwell, from Rotherham, who was raped and strangled in 1964, and 14 year-old Elsie Frost from Wakefield, who was stabbed five times in 1965. He was visited several times while detained in Broadmoor by detectives and interviewed in connection with these murders, but he refused to cooperate.
However, in 2017, detectives had a breakthrough. Forensic evidence linked Peter to the murder of Elsie Frost and a fresh investigation was launched. During this re-investigation detectives discovered that Peter was renting a storage garage in Sheffield, and getting a warrant, they opened it up and found handcuffs, diaries and exercise books, which contained confessions. One of those confessions was the rape of an 18-year-old woman from Barnsley, which was undetected and after tracing the woman, who was then in her sixties, Peter was charged with that rape and convicted in 2018. Before he could be sentenced for that rape and also charged with the Elsie Frost murder, Peter died. He was 79.
Click here to order SHADOW OF THE BEAST
Click here to find out more about the DS Hunter Kerr Investigations