Congratulations to Graham Ley, whose gripping historical saga, The Baron Returns, is out now!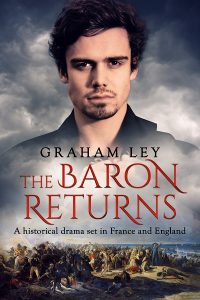 The Baron Returns is the first book in The Kergohan Regency Drama Series.
Devon and Brittany, 1795
In the aftermath of the bloody French Revolution, the British government is anxious to prevent revolutionary ideals from crossing the Channel.
As a seasoned army captain with an estate in Brittany, English-French aristocrat Justin Wentworth is sent to France to assist the Chouannerie — a royalist uprising against the new regime.
Back at Chittesleigh Manor, his Devonshire estate, Justin's mother and sister anxiously await his return, alongside family friend Arabella Wollaston. Harbouring a secret affection for Justin, Arabella listens carefully for clues about his movements.
When she notices suspicious behaviour around Chittesleigh, Arabella suspects that the Wentworth family is being watched and decides to discreetly investigate.
But with plots and treachery seemingly rife throughout the realm, she soon begins to wonder whether she has stumbled across a wider web of subterfuge…