Congratulations to David Field, whose gripping historical saga, The Absentee King, is published today! The Absentee King is the fifth book in the Medieval Saga series.
England, 1189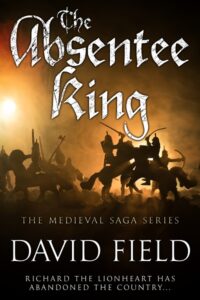 Richard the Lionheart has been crowned King of England.
But his obsession with fighting in the Third Crusade sends him off to foreign lands.
The nation is left in a perilous state, with high public offices sold off, and trusted favourites left to rule during Richard's absence.
Richard's dissolute and envious younger brother John feels humiliated, not least when Richard declares his four-year-old nephew Prince Arthur to be his heir, and he causes unrest throughout the nation by enforcing harsh laws designed to keep the population under his iron fist.
Chief Justice, Earl William of Repton, is ordered to investigate the possibility that John is seeking to undermine his brother Richard's rule.
And when news reaches England that King Richard has been captured, and is being ransomed by Henry VI of Germany, William becomes convinced that John is plotting to seize the English crown.
Will Richard be released? Will he return to claim his throne?
Or will John succeed in his mission to overthrow the absentee king…?