Congratulations to Linda Stratmann, whose eerie historical mystery, Sherlock Holmes and the Persian Slipper, is published today!
Sherlock Holmes and the Persian Slipper is the fourth Victorian crime thriller in the Early Casebook of Sherlock Holmes series.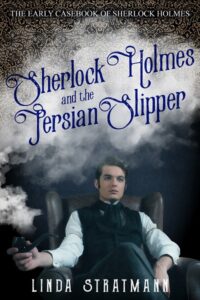 London, 1877
When medical student Mr Stamford is visited by his cousin, Lily, he is disturbed by the sinister tale she relates.
Lily's friend, Una, has recently inherited an old country house and settled down to married life in Coldwell, a small Essex village. However, Una's letters to Lily indicate that she is alarmed by her new husband's secretive behaviour — especially when she discovers a gun in his drawer, tucked inside a Persian slipper. Fearing for her friend's safety, Lily asks Stamford to pay Una a visit.
To his dismay, Stamford arrives in Coldwell to find that Una's husband, John Clark, has been found dead, lying in bed with a gunshot wound in his chest. Close examination reveals that the bullet was fired from Clark's own gun, through the toe of the slipper.
Stamford loses no time in alerting his acquaintance, Sherlock Holmes — an artful young sleuth — hoping that he can shed some light on Clark's death.
As Holmes and Stamford begin to probe Clark's past, it soon becomes obvious that he had plenty to hide. And when Holmes hears of further suspicious disappearances, he starts to search for the connection between the sinister mysteries…