Congratulations to Linda Stratmann, whose fabulous historical mystery, Sherlock Holmes and the Explorers' Club, is published today!
Sherlock Holmes and the Explorers' Club is the second Victorian crime thriller in the Early Casebook of Sherlock Holmes series.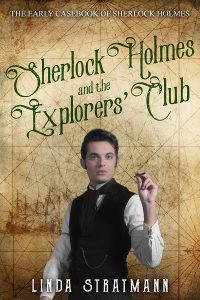 When the preserved foot of a dead man with extra toes arrives at St Bartholomew's Medical College, the students are fascinated. However, despite this unusual feature being reported in the press, the man's identity remains a mystery.
Intrigued by the puzzle, medical student Mr Stamford calls on his acquaintance Sherlock Holmes — an eccentric but brilliant young sleuth — to help him learn more about the deceased.
With only the man's boots and a few possessions to examine, Holmes relishes the challenge. He soon finds a coded message hidden inside the man's purse, which suggests a possible connection to criminals or spies.
Over the course of their investigations, Holmes' and Stamford's suspicions are strengthened when they learn of further shocking deaths. It soon becomes apparent that the men who died all belonged to the mysterious Explorers Club — and the lives of the remaining members may also be in danger.
Although the deaths look like accidents, Holmes is convinced that the men were murdered. And with conspiracy and intrigue lurking at every turn, he must now expose the secrets of the Explorers' Club before the next member meets a grisly end…