Congratulations to Linda Stratmann, whose gripping historical mystery, Sherlock Holmes and the Ebony Idol, is published today! Sherlock Holmes and the Ebony Idol is the third Victorian crime thriller in the Early Casebook of Sherlock Holmes series.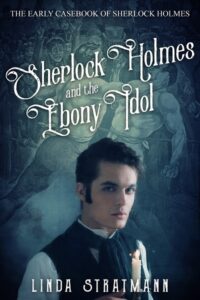 When a pugilist dies at a local boxing demonstration attended by medical student Mr Stamford and his acquaintance Sherlock Holmes, a post-mortem reveals the death is due to natural causes.
But when the corpse of another boxer is discovered clutching a small wooden carving – the ebony idol – Holmes begins to suspect that sinister forces are at work.
His suspicions seem confirmed when the companions hear about a previous death in the ring.
Tasked by the man's widow to bring his killer to justice, Holmes and Stamford are swiftly drawn into their most curious case to date.