Congratulations to Michael Fowler, whose gritty psychological thriller, See Them Die, is published today!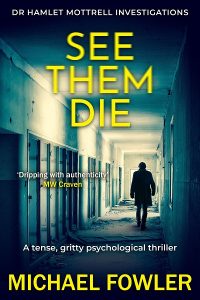 Three years ago, forensic psychologist Dr Hamlet Mottrell's life was completely destroyed when an intruder killed his wife and unborn child and slashed his wrists to make it look like a murder-suicide.
Though the case against him was dropped, Hamlet remained guilty in the eyes of many, and was forced into a life of solitude.
But then he hears of another brutal murder case and becomes convinced it is the same person who attacked his family.
He gets in touch with Detective Sergeant Alix Rainbow, one of the only people who believed him when he was initially arrested, and convinces her to help him track down the vicious killer.
But when more deaths occur, she starts to question everything…