We are delighted to announce that we have signed up a new Regency series by Graham Ley.
The Kergohan Regency Drama Series tells the story of the Wentworth family, English-French aristocrats living in Devonshire. The first book in the series, The Baron Returns, follows Justin Wentworth — a young army captain — as he makes the perilous journey to Brittany to assist a royalist uprising during the French Revolution.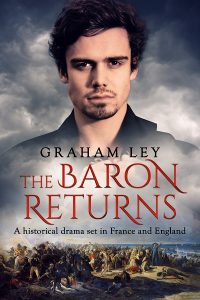 The Baron Returns is available to pre-order and will be published in April 2022. The second book in the series will be released later this year.
In Graham's words:
"I originally decided to write an historical novel in honour of my mother, Alice Chetwynd Ley, whose complete backlist (including a forgotten title, An Eligible Gentleman) has been published by Amy and the team at Sapere.
"After my first book had been accepted for publication, I found that a number of the characters were calling out for their stories to be followed through. So The Baron Returns was soon followed by a second novel, in which Arabella, the forthright heroine who had refused to let suspicions against her beloved Justin rest unchallenged, now stood up for his sister against an unscrupulous admirer.
"Both novels feature a dual and interweaved storyline, with characters in rural Brittany bound up with events in England in the turbulent period of the years just after the French revolution in 1789. And now a third novel is in preparation, which casts the intrigue into Devon and London as well as embracing love and betrayal in Brittany.
"The name of the series, The Kergohan Regency Drama Series, refers to the manor in rural Brittany that is at the centre of much of the story. The cover of The Baron Returns sets the scene magnificently, and I am delighted to have become a Sapere author."