Set in seventeenth-century Leiden, The Netherlands, Graham Brack's funny and immersive Master Mercurius Mysteries follow Mercurius — a witty university lecturer-cum-sleuth.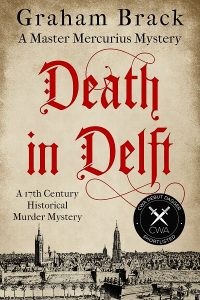 The first four books in the Master Mercurius series are published, and we are delighted to have signed up the next instalment: THE VANISHING CHILDREN.
In Graham's words:
"I've been delighted with the response from readers to the Master Mercurius Mysteries. It's wonderful to read good reviews, not only for myself, but also for Sapere Books, who always had faith in the stories. Being part of the Sapere family is very encouraging to any author; we enjoy our colleagues' successes. I wouldn't want to be anywhere else.
"The fifth book sees Mercurius sent to Amsterdam which — even in 1684 — was not a place where a minister who has led a sheltered life as he has would feel comfortable. On top of that, he has been sent to bully the city authorities into handing over their taxes in full. However, while he is there, he is approached by a local merchant who tells him that three children have gone missing, and their families have been fobbed off by Amsterdam's powers that be.
"So begins an inquiry that makes Mercurius question his own faith as well as his suitability for the task he has been given…"
Click here to order DEATH IN DELFT
Click here to find out more about the Master Mercurius Mysteries