Marilyn Todd's witty and atmospheric Julia McAllister Victorian Mysteries follow a courageous female photographer-cum-sleuth as she investigates London's shadiest characters.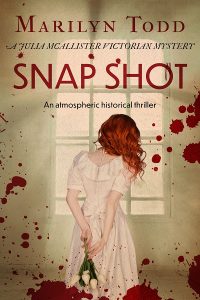 The first two books in the series — SNAP SHOT and CAST IRON — are already published, and we are delighted to have signed up the next two instalments.
In Marilyn's words:
"I'm thrilled to be continuing Julia's story, and quite frankly, having this series in the hands of a dynamic publishing team like Sapere is the icing on the cake!
"The third instalment, BAD BLOOD, sees Julia tasked with photographing the scene of a factory owner's murder. A man who treated his workers like dirt, and his wife even worse. It's not so much a question of who'd want him dead — more who wouldn't. But eight years earlier, his son was abducted, and Julia soon realises that the kidnap and murder are connected. The trouble is, knowing who's responsible is one thing, proving it is quite another. Especially when the killer knows she's on to them.
"This is followed by DEAD DROP. Music halls were a popular antidote to the noise and smoke belching out of the Industrial Revolution, but the lives of the entertainers were gruelling. When a young showgirl is found hanged, Julia doesn't believe it was suicide. Too late, she discovers that the truth hurts, but secrets kill, putting her own life on the line…"
Click here to find out more about the Julia McAllister Victorian Mysteries