Following the publication of David Field's absorbing Esther & Jack Enright Mysteries, Tudor Saga Series and Carlyle & West Victorian Mysteries, we are delighted to have signed up his new Medieval Saga Series.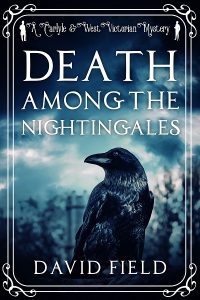 In David's words:
"I consider myself blessed to have found Sapere Books, who not only share my enthusiasm for historical novels, but also provide the most generous author royalties in the business, and never lose sight of the fact that their many authors have invested a massive amount of emotional energy into creating, nurturing, and revealing their characters.
"It's therefore with great optimism and a sense of purpose that I've embarked on my latest venture with them — the Medieval Saga Series, a set of seven novels that follow the fortunes of the same family from immediately prior to the Battle of Hastings all the way through to the death of Simon de Montfort in the Battle of Evesham in 1265.
"The first in the series — THE CONQUEST — introduces the Riveracres, a Saxon family living on the Sussex coast whose tiny village is directly in the path of Duke William of Normandy's invasion army, and the Astenmedes, the local Thegn's brood whose traditional privileged status is about to be shattered. Amidst the turmoil, two brave men, Will Riveracre and Selwyn Astenmede, form an unlikely partnership as they stand against both Duke William and Harald Hardrada's invading Viking force to the north."
Click here to find out more about the Esther & Jack Enright Mysteries
Click here to find out more about the Tudor Saga Series
Click here to find out more about the Carlyle & West Victorian Mysteries