On Thursday evening, we attended the Crime Writers' Association Dagger Awards at the Leonardo Royal Hotel London City – a starry celebration of the best crime writing of the year in the UK.
We are the proud sponsors of the Sapere Books Historical Dagger Award, which recognises the best historical crime novel of the year. From a shortlist of six, the fabulous Destroying Angel by S. G. MacLean was chosen as the winner!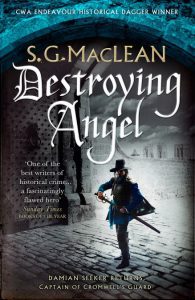 Set in 1655, Destroying Angel is the third novel in MacLean's popular and critically acclaimed Seeker series. The first book in the series, Seeker, won the Historical Dagger in 2015, so this is a second win for MacLean's excellent series.
This third book follows Captain Damian Seeker, a trusted member of Oliver Cromwell's guard, as he travels to the Yorkshire village of Faithly to enforce the government's anti-Royalist laws. Upon arrival, Damian is invited to dinner at the home of Faithly's Puritan commissioner, Matthew Pullan – a tension-filled gathering that ends with Pullan's young ward, Gwendolen, being fatally poisoned.
With suspicion and bitterness rife in the village, Damian must discover whether Gwendolen's death was an accident or something more sinister. Atmospheric and full of compellingly unsavoury characters, Destroying Angel's meticulous historical details and intricate narrative keep the reader absorbed throughout.
We would like to congratulate S. G. MacLean on her well-deserved win and applaud all of the shortlistees for their wonderful work!
You can order all the books in S G MacLean's Seeker series here.
We would also like to say a massive thank you to CWA Chair Linda Stratmann, Vice Chair Jean Briggs and everyone else on the CWA committee who put in some much hard work organising the event! We are very happy to be building an ongoing relationship with the Association and we can't wait for next year.
We are the proud publishers of both CWA Chair Linda Stratmann and Vice Chair Jean Briggs' novels.
Click here to find out more about Linda Stratmann's Mina Scarletti series.
Click here to find out more about Jean Briggs Charles Dickens Investigations series.