Congratulations to Richard Kurti, whose thrilling Renaissance murder mystery, Palette of Blood, is out now!
Palette of Blood is the second book in the Basilica Diaries Medieval Mysteries: historical thrillers set in fifteenth-century Rome and featuring a brother and sister investigative duo.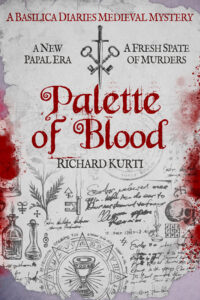 1503, Rome
Power has shifted among the great families, and a new Pope has been elected.
Julius II is determined to cement his place in history by redesigning the magnificent St Peter's Basilica and he issues a challenge to the leading artists to submit their designs.
Aware that there are rich pickings to be had from such an ambitious project, Rome's most powerful families each back different artists, hoping to get a monopoly on valuable building contracts.
But before a winner is picked, a shocking murder disrupts proceedings.
Prominent lawyer Antonio Ricardo is found brutally dismembered next to a magnificent work of art he commissioned.
And the killings don't stop there…
Is one of the famously ruthless families behind the killings? Could it all be a dark campaign to scare off the rival bids?
Head of Security at the Vatican, Domenico Falchoni and his astute sister Cristina are determined to get to the bottom of the mystery.
But with the reputations of the most powerful families at stake, can they stop the deaths without putting their own lives on the line…?