Congratulations to Coirle Mooney, whose page-turning Medieval drama, My Lady's Shadow, is published today!
1198, France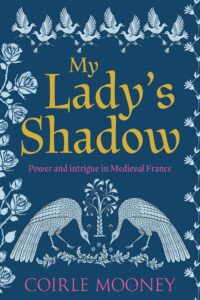 Lady Maria of Turenne has long been engaged in a flirtation with Count Hugh La Marche. It is a match which her father has strongly encouraged. However, Maria is her own woman and she is determined to choose for herself. Maria is unaware that her clever, scheming maid, Maryse, is secretly in love with the count.
Soon after, the young troubadour, Gui d'Ussel, arrives at the castle and Maria is instantly captivated by him. He shares her distaste of convention and her love of the arts and they soon become inseparable. Meanwhile, Maryse develops a strong dislike for Gui and her resentment for Maria grows.
Angered by her treatment of the Count of La Marche, Maria's father has arranged a new wedding match. This time, Maria will not be allowed to decline.
Forced into marrying a wealthy viscount against her will, Maria and Gui are torn apart from each other. However, Maria is determined to find a way to use the power she has gained through marriage to raise Gui in society.
Will Maria and Gui find a way to be together? Can Maria escape her marriage?
Or will they be fated to remain apart?