This Christmas, we've put together an anthology of festive crime fiction that is sure to give you the chills! Here's a taste of what to expect from MIDWINTER MYSTERIES…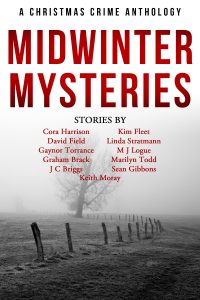 In Graham Brack's AWAY IN A MANGER, a decidedly non-festive Lieutenant Josef Slonský investigates a string of thefts amid Prague's bustling Christmas market.
At a Christmas Eve gathering, Charles Dickens weaves a gory, atmospheric ghost story that becomes a little too real in J C Briggs' FOOTPRINTS IN THE SNOW.
Keith Moray's LOST AND FOUND follows the residents of West Uist as they merrily prepare for their New Year's Eve traditions – until one of them is found dead…
While trying to provide for his family, young Alfie finds himself investigating the disappearance of gold bars from a bullion store – which have vanished along with his beloved dog, Mutsy – in Cora Harrison's THE SPIRIT OF CHRISTMAS.
In Seán Gibbons' THE STOLEN SANTA SACK, unlucky driver Ben Miller is stuck with a dead Santa Claus and a sackful of cash in the back of his cab…
While hurrying to develop her clients' portraits in time for Christmas, photographer Julia McAllister is landed with a drunken newlywed and a photograph of a ghost in Marilyn Todd's WILL POWER.
Gaynor Torrance's CHRISTMAS SPIRITS follows headstrong Detective Inspector Jemima Huxley as she finds herself caught up in an armed robbery while doing her Christmas shopping.
In David Field's THE ESSEX NATIVITY, Detective Sergeant Jack Enright discovers a destitute couple expecting their first child in the shelter of a barn.
When one of her clients is stalked by a mysterious figure, Private Investigator Eden Grey attempts to uncover the unwelcome follower in Kim Fleet's SECRET SANTA.
Major Thankful and Thomazine Russell investigate the theft of a scandalous manuscript written by the king in M J Logue's STIR UP SUNDAY.
In Linda Stratmann's THE CHRISTMAS GHOST, wilful sleuth Mina Scarletti attempts to bring peace to a woman haunted by the spirit of her dead son.