Congratulations to Graham Ley, whose captivating French Revolution saga, Heir to the Manor, is out now!
Devon and Brittany, 1796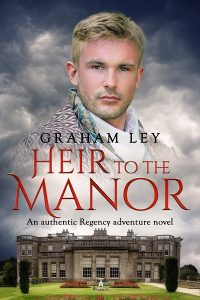 As the conflict in France rages on, the Wentworth family — Anglo-French aristocrats — must find their place in a changing world.
Staying with friends in Cornwall and Plymouth, young Amelia is widening her social circles at soirees and assemblies. Finding herself in the company of several eligible gentlemen, she begins to wonder whether romance is on the horizon.
After fighting in France, Justin has married Amelia's friend Arabella and the two have settled down at Chittesleigh Manor, his Devonshire estate. However, Arabella still feels responsible for Amelia and vows to find a way to protect her from unscrupulous suitors.
Hailing from Brittany, Sempronie — Amelia and Justin's mother — feels her birthplace calling her home, despite the dangers of returning. What's more, there is a long-buried family secret that she must put right before it's too late…