Congratulations to Tim Chant, whose page-turning nautical adventure, The War for Tripoli, is out now! The War for Tripoli is the third book in the Marcus Baxter Naval Thrillers series.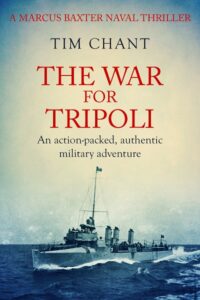 1911
Itinerant seaman Marcus Baxter has landed in Constantinople. Short of funds and lacking allegiance to any government, he is keen to sell his services to the highest bidder.
With Italy intent on capturing the Ottoman provinces of Tripolitania and Cyrenaica, it seems that war is on the horizon and fighting men will soon be in demand.
As a battle-hardened sailor, it isn't long before Baxter is approached by Hiram Bogue, an American sea captain in league with the Committee of Union and Progress — an Ottoman revolutionary organisation.
Enticed by the amount of money on offer, Baxter agrees to train new recruits aboard the Residye, a proposed blockade runner, as well as overseeing the refit of the vessel.
With the growing threat of attack by the Italian navy, the assignment grows ever more dangerous.
And when war finally erupts, Baxter is forced to propel his inexperienced crew and ill-equipped vessel into action.
But with such a formidable enemy, will he survive long enough to claim his earnings…?