Congratulations to Tanya Jean Russell, whose heart-warming holiday romance, Summer at Rose Hall, is out now!
Summer at Rose Hall is the fourth book in the Honeyford Romantic Holiday Reads series.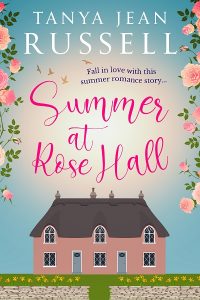 Having recently left the army, Abby Smith is struggling with civilian life. Unsure where her future lies, she accepts a temporary job as the summer events manager at Rose Hall, a countryside estate.
Soon after she arrives, Quinn Beaumont, the wayward heir to Rose Hall, returns to the estate for the summer. Plagued by self-doubt, Quinn overindulges in parties and alcohol to forget his responsibilities.
Recognising his unhappiness and untapped potential, Abby asks Quinn to join her in the events department to help him ease into his role at Rose Hall. In return, Quinn vows to help her transition back into civilian life.
Working in close proximity, both soon begin to wonder whether their friendship could blossom into something more.
But having never lived in one place for more than a few months, Abby isn't sure whether she's capable of settling down. And with the wounds of her past still holding her back, she must now decide whether she's prepared to risk her heart…
Will Abby and Quinn find where their happiness lies? Can they face the future together?
Or will their differences drive them apart…?