Congratulations to Ros Rendle, whose moving contemporary romance, Sunflowers for Suzy, is published today!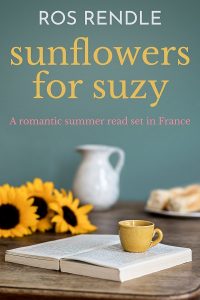 Having recently lost her mother, 38-year-old Suzy Summers is anxious to make a fresh start. Leaving behind her old life in England, she flees to the idyllic village of Fleurus-le-Comte in Northern France.
On arrival, Suzy crosses paths with Jean Christophe, an unhappily married farmer. Irritated by his apparent conceit, she vows to have nothing to do with him.
However, as Suzy settles into village life, she and Jean Christophe are thrown together more and more. Witnessing his kindness and charm, Suzy softens and they form a tentative friendship.
Among the peaceful hills and rivers of the beautiful valley, Suzy's weary spirit begins to heal. But as she finds herself falling for a man who already belongs to another, she begins to wonder whether she can bear to stay…