Congratulations to Natalie Kleinman, whose enchanting Regency romance, The Wishing Well, is published today!
England 1818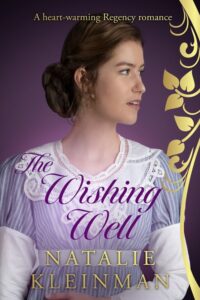 Ever since the deaths of her fiancé and her father, Harriet Lambert has thrown herself into the management of her family's estate to cope with her grief. Though time has eased her sorrow, she has had little opportunity to once again pursue romance.
But when she is called on to accompany her younger sister, Amabel, to London for her introduction into respectable society, Harriet finds herself caught in a flurry of social engagements. And when she meets Major Brew Ware at a soirée, the two form an immediate connection.
Having experienced tragedy at an early age, Brew understands the significance of Harriet's loss. With their shared interests and honest approach, their friendship continues to flourish as the season wears on.
Though no man has turned her head since she lost her fiancé, Harriet is aware that her affection for Brew is growing stronger. And as she tentatively considers her future, she must now decide whether she is prepared to take another chance on love…