Congratulations to Michael Fowler, whose fast-paced thriller, House of Death, is published today!
House of Death is the third crime novel in the Dr Hamlet Mottrell Investigations series: dark, gritty murder cases investigated by a forensic psychologist.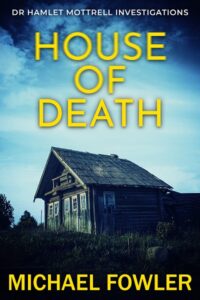 Forensic psychologist turned detective Dr Hamlet Mottrell and his crime-fighting partner Detective Sergeant Alix Rainbow have found themselves in hot water.
The serial murderer, The Wedding Killer, who they put in custody is pleading his innocence, alleging he has been framed by the two detectives.
And a series of letters, claiming to be from the real killer, back up his accusation.
Under the spotlight for mishandling the investigation, Hamlet and Alix are sent home on gardening leave while another force conducts a scrutiny of their investigation.
The pair are told not to interfere. But that is one order they must disobey.
Determined to discover the truth, they go against the rules, secretly embarking on a behind-the-scenes enquiry to discover who the Wedding Killer is, and they soon discover the disappearance of two women who might be linked.
The quest to discover who is behind their vanishing quickly becomes a dangerous exercise, putting not only Hamlet and Alix's careers in jeopardy but also their lives…
Did they put the right killer behind bars? Can they clear their names?
Or will the two detectives end up as victims…?