Congratulations to J. C. Briggs, whose thrilling Dickensian adventure, The Jaggard Case, is published today!
The Jaggard Case is the tenth urban mystery in J. C. Briggs' literary historical series, the Charles Dickens investigations, a traditional British detective series set in Victorian London.
London, 1851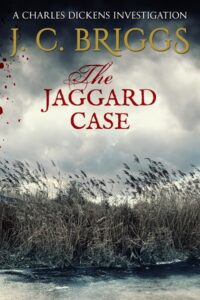 With Superintendent Sam Jones away in Southampton on the trail of missing murderer Martin Jaggard, his wife, Elizabeth, enlists the help of Charles Dickens when her beloved servant, Posy, goes missing.
Meanwhile, Jones apprehends Jaggard's mistress, Cora Davies, who is in possession of stolen jewels belonging to Jaggard's murder victim, Sir William Pell.
But Jones is no closer to finding the man himself, so he returns to London where he believes Jaggard may be hiding.
Dickens and Jones discover that their separate cases both have links to Clerkenwell – a notorious haunt for criminals and forgers.
And when they suspect they are being followed, they realise Jaggard may be onto them.
Was Jaggard behind Posy's abduction? Is the servant girl still alive?
Or will more victims be found dead in the mysterious Jaggard Case…?