Congratulations to Elizabeth Bailey, whose fabulous historical mystery, The Vengeance Trail, is out now! The Vengeance Trail is the ninth book in the Lady Fan Mystery series.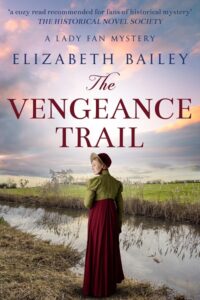 1796, England
When Lady Ottilia Fanshawe finds herself launched into a river and fighting for her life, she becomes convinced someone pulled her under the water.
And when a dead body washes up on the riverbank, her theory becomes a certainty.
Lady Fan recognises the dead woman as someone connected to one of her past cases.
Had the woman been spying on her? Was she Lady Fan's attacker? If so, why was she killed?
Lady Fan is desperate to unravel the mystery but her dedicated husband, Francis, is determined to keep her out of harm's way.
She is devastated when cracks appear in her marriage, but she knows she cannot give up her sleuthing if she is to protect herself and her family.
Who is targeting her? And why? Can Lady Fan solve the mystery before everything she holds dear comes crumbling down around her…?