Congratulations to David Field, whose thrilling Medieval saga, Conquest, is published today!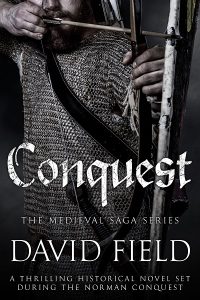 It's 1065 and the Saxon kingdom is under threat of invasion at both ends. From the north comes Harald Hardrada of Norway intent on pillage, while across the Channel, Duke William of Normandy is about to enforce his claim to the throne.
Between the two lie the villages and townships defended only by part-time armies maintained by the Earls of Wessex, Mercia and Northumbria, barely united under King Harold Godwineson.
It falls to brave and determined young men like Will Riveracre and Selwyn Astenmede to stand firm against whichever marauding invader reaches them first.
But the initial battle could be the least of their worries as a new king ascends the throne – threatening to annihilate their traditions and customs forever…