Congratulations to David Field, whose absorbing historical saga, The Conscience of a King, is published today!
The Conscience of a King is the final instalment of The Medieval Saga Series – thrilling action-packed adventures set during and after the Norman Conquest.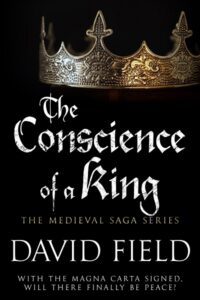 England, 1229
After fighting in the Albigensian Crusade in France, Simon de Montfort – a landless nobleman – arrives at the court of Henry III, hoping to re-establish his family's claim to the Earldom of Leicester.
In pursuit of his goal, Simon soon proves his value to Henry as a military leader and political advisor, becoming one of the king's most trusted men.
But discontent is building within the English court. Frustrated by the king's preference for foreign nobles and his extortionate taxes to fund wars abroad, the leading barons are constantly on the edge of rebellion.
As a man with a strong sense of justice, Simon is dismayed by Henry's treatment of the common people and the corruptibility of the English legal system. And as the barons' anger seems set to boil over into armed conflict, Simon must search his conscience and decide how far he is willing to go to bring about reform…
Can Simon restore his family's fortunes? Can he help lead England into a new golden age while retaining the king's favour?
Or will his principles cost him his life…?